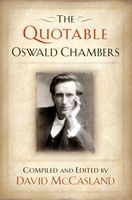 Through the diligent work of David McCasland, also author of Oswald Chambers: Abandoned to God, those fond of the writings of Oswald Chambers can now find that authoritative Chambers quote on topics ranging from marriage to the Bible or war. For decades readers of Oswald Chambers have gained encouragement, inspiration and insight into the Christian life. Chambers is best known for My Utmost for His Highest, which is actually a compilation from lectures and sermons of Chambers' drawn together by his widowed wife, Biddy, who took impeccable shorthand notes while Oswald was living.
The book is arranged topically and mirrors Chambers' key themes and teachings along with an index to help the reader find quotes with ease. It also contains an annotated bibliography as well as Scripture and subject indexes. This volume also has an accompanying CD that contains the full-text of the book that is searchable along with the text of the King James Bible.
The Wheaton College Archives & Special Collections houses the Chambers archive, which consists of numerous boxes of Oswald's artwork, published writings, correspondence, samples of Biddy's shorthand notes and other materials relating to his education, growth and years of Christian ministry. Other materials of interest are the class notes and personal diaries of Eva Spink, a student of Chambers' at the Bible Training College in London and a co-worker in Egypt. This collection was the heart of McCasland's biographical research and a wonderful gift upon the biography's completion.