"No distinction is made on the basis of ancestry or color. The equality of all in natural and inalienable rights is fully recognized."
These words from the 1856 Catalogue of the Illinois Institute (soon to become Wheaton College) expressed the core commitment of the school's original Wesleyan founders. In spite of this laudable entry in its charter, the realities of American life, particularly in the 1850s, made it difficult for students of color to attend the Institute. Because of this early students of color lived in with Wheaton's president, Jonathan Blanchard. Despite many difficulties and hurdles early students of color, like Mary Barker, Edward Sellers, and William Osborne, went on to careers as ministers, educators, and missionaries.
Mary Barker is the first African-american known to have enrolled. She came to the Illinois Institute (later renamed Wheaton College) in 1857. She was from far-southern Illinois' Cave-in-Rock, where her parents were free-blacks–having earned their freedom by purchasing their freedom. Moses Barker became one of Hardin County's most prosperous citizens. Mary only spent a year in study, but returned in 1863 to complete her studies in the Academic program–an English-course suited to those seeking a teaching career. Mary went on to teach in Quincy, Illinois for several decades and married George T. Morgan, a Civil-War veteren.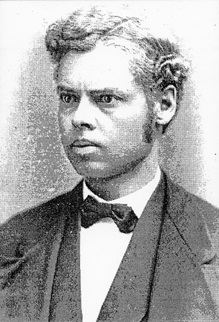 Edward Breathitte Sellers is the first known college graduate of color of Wheaton College and one of the first African American graduates in the state of Illinois. He was said to have been born on the Andalusia Plantation in Mississippi. Born and reared in slavery, somehow prior to his matriculating at Wheaton College, he moved to Illinois and listed Shawneetown, Illinois as his home. In the 1862 Wheaton College Catalog, he is shown to have entered the Collegiate program and is listed as a Freshman. That same year he joined the Beltionian Literary Society. Founded in 1856, the crimson-clad Belts championed the cause of "striving for the greater and better." It was in the literary society that Sellers was able to hone his oral and written communication skills as he debated his fellow students on topics ranging from economics to ethics, such as the lawfulness of slavery. Sellers held leadership positions within the society and gained a reputation as "one of the leading disputants" on campus.
During his junior year at Wheaton College, Sellers joined several of his classmates and heeded the call of the Union Army for "hundred-days men." Sellers, along with his friends, enlisted May 18, 1864 in the 132nd Illinois Volunteer Infantry Regiment. This regiment was organized at Camp Fry, Chicago, Illinois, and mustered in for 100 days service from June 1, 1864. and encamped and trained near Paducah, Kentucky – not far from his Shawneetown home. Sellers didn't seem to have seen any skirmishes. He was mustered out October 17, 1864.
After his summer soldiering, Sellers returned to school and graduated in 1866, the sole graduate that year. With the help of Wheaton's president, Jonathan Blanchard, Sellers moved to Boston and enrolled at Andover Theological Seminary. He is listed in the junior class in the 1872 Congregational Quarterly. He earned his bachelor of divinity in 1874 and was ordained that November at the Congregational Church in Selma, Alabama. Afterwards, he was appointed by the American Missionary Association to a pastorate in Chattanooga, Tennessee.
After two years in this pastorate, Sellers' life takes a twist and begins to become unclear. In 1876, he moved back to Boston for a year. From 1877-1883 he lived in Taunton and Worcester, Massachusetts and was known to have died of "insanity" at 41 years of age on June 4, 1883 in Worcester.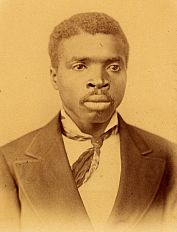 William Osborne united with the Illinois 107th Infantry When Union troops marched through Alabama in 1864. Colonel Jonathan Merriam brought Osborne to Illinois and took him into his home, offering him a new life and a chance at an eduction. Due to local prejudice Merriam arranged for Osborne to register at Wheaton College's academy in 1869. Osborne later received his B.A. in 1876 and an M.A. in 1879 from Wheaton's short-lived seminary (operated cooperatively with the Wesleyan Methodists). Afterwards Osborne was ordained by the AME church in 1880. As an able preacher, he quickly rose in the ranks of the rapidly growing Black denomination and served churches in Missouri, Montana, Nebraska, and Washington, before concluding his ministry in Kansas City. Osborne also served as a member of the board of Wilberforce University.