A common experience in my work as a curator of rare books and manuscripts is that of rediscovery. Once such example of this rediscovery is this volume.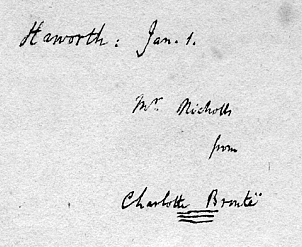 It is Charlotte Bronte's autograph presentation copy to her future husband, Arthur Nicholls (inscribed on the fly-leaf and title page) and contains Nicholls' marginalia written after Bronte's death.
Nicholls was a curate in Bronte's father's parish and his marriage proposal in December 1852, came as a complete surprise to Charlotte and her father. Mr. Bronte withheld his consent, partly because he thought Charlotte was too frail to survive a pregnancy, and Charlotte declined the offer. Mr. Bronte was angered by his curate's presumption, and made life so uncomfortable for him, that Mr. Nicholls resigned and left the village. He took a curacy at Kirk Smeaton, forty mile south of Haworth, and corresponded with Charlotte. By late 1853 they were meeting secretly near Haworth, and by Christmas, Charlotte had accepted him and persuaded her father to agree. They were married on the 29th of June 1854 and honeymooned for a month in Ireland. Their marriage was very happy and tragically short.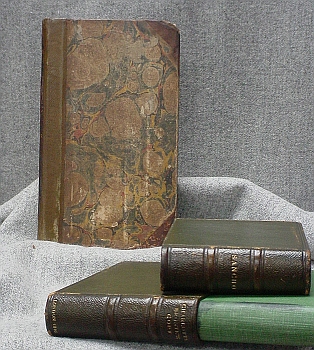 At the turn of the year, Charlotte developed chronic sickness, became weak and emaciated, and, on the 31st of March 1855, she died in the early stages of pregnancy.
Nicholls stayed on to look after Mr. Bronte until his death in 1861. He had hoped to take over the parish after his father-in-law's death, but he was overlooked. He returned to Ireland and took up farming and never worked as a priest again. In 1864 he married his cousin and never had children. Nicholls, as the last remaining member of the Bronte family, spent the next forty years defending the Bronte name against an endless series of biographers and curio-hunters.