Within the William S. Akin Rare Book Collection there lies a unique copy of John William Cunningham's Sancho, or The proverbialist (London: Ellerton and Henderson, 1816). It is Charlotte Bronte's autograph copy to her husband, Arthur Nicholls (inscribed on the fly-leaf and title page) and contains Nicholls' marginalia written after Bronte's death.
Arthur Bell Nicholls was the 4th suitor to propose marriage to Charlotte Bronte. He was curate in her father's parish at Haworth and his surprise proposal resulted in a firm refusal by Rev. Bronte and Charlotte herself. Mr. Nicholls eventually resigned and left the village, yet would soon resume his correspondence with Charlotte. By Christmas of the following year, he and Charlotte resumed meeting together and eventually changed Rev. Bronte's mind on the matter.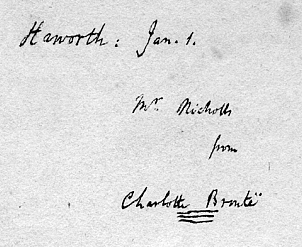 The two were married in June 1854 and after spending a month honeymoon in Ireland returned to Haworth and Nicholls resumed his duties as curate. Their happy marriage would end tragically as Charlotte died the next Spring during the early months of their first pregnancy. She was 38. Arthur eventually remarried yet never had children of his own.