After V. Raymond Edman's sudden death in 1967, his friend, William Akin of Evanston, IL, donated his personal library (SC-01) to Wheaton College as a memorial. The collection contains rare editions of Johnson,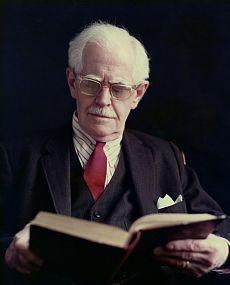 Bronte, Milton and others.
In addition to his generosity, Akin was a lively, occasionally insightful critic, issuing monthly book reviews during the 1950s for Union League Men and Events, the official newsletter of his beloved "and famously exclusive" Union League Club, located in Chicago's Loop. "To me," he wrote of the club's library, "it is a bit of heaven on earth." As chairman of its library committee, he expertly acquired world-class literature from a far-flung network of booksellers, universities and publishers. Happily engaging a volume's content, he offered warm praise if he liked ("I like anything about Pope Pius XII and where he lives…") and saucy shots if he did not ("…another expose of Dickens…459 pages of tripe that is nothing more than a rehash of old rehash…").
Akin's legacy evokes the ghost of an extinct creature: the gentleman scholar with his book, savoring the perfection of a crafted poem or sentence, his feet propped on a hassock in the oak-paneled, smoke-filled lounge, serenely nested high above the streets where taxis honk and newsboys shout.