Visiting at the height of the Second Great Awakening, Alexis de Tocqueville noted in his Democracy In America, that "the religious atmosphere of the country was the first thing that struck me on arrival in the United States." He repeatedly commented on the fractured nature of American religion and the ability of Americans to tolerate the multitude of sects.
Had de Tocqueville visited nearly a half-century later he may have had some different things to say, especially if he were to encounter Julia Smith Parker. Julia Evelina Smith was born in Glastonbury, Connecticut and is known mainly for her work in the abolition, temperance and suffrage movements along with her sister Abby Hadassah Smith. However, Smith had a working knowledge of Latin, Greek and Hebrew as her father, Zepheniah Smith, had been at one time a minister in the Congregational church after graduating from Yale with a theological degree. With this knowledge Smith read the bible in its native languages, however most folks only had the King James, or Authorized, version to read from.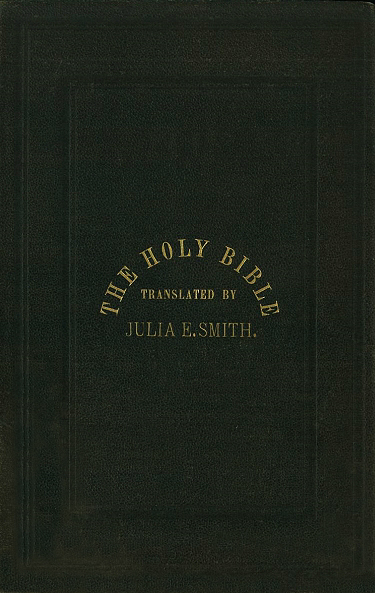 Beginning in 1847 Smith set about creating a new translation. Her project had been spurred on by the failure of William Miller's apocalyptic predictions of the end of the world failed, which had been supported by biblical texts. Her literal translation took eight years to complete and she enlisted the aid of no one in her work. She stated that she did "not see that anybody can know more about it than I do." It is this streak of American religion that de Tocqueville noticed and would have marveled at again if the two had met.
While working on her translation Smith insisted on complete literalness, maintaining words in the order in which they occurred in the original text and sought to translate each original word with the same English word, no matter the tense. This created significant difficulties in creating a readable translation as she coupled the the Hebrew imperfect tense with the English future tense since there weren't direct correlations. The end result was a translation that was mechanical and, at times, foolish or jumbled. A sample of the text's difficult structure can be found in Isaiah 7:23, which was rendered "And it was in that day every place shall be where shall be there a thousand vines for a thousand of silver, for sharp points and thorns shall it be." Compare this to the King James of the day, "And it shall come to pass in that day, that every place shall be, where there were a thousand vines at a thousand silverlings, it shall even be for briers and thorns."
Though she began her work in the late 1840s her work did not see publication until 1876 when she was 84 years old, in part because her original intent was not publication. She had wanted to "see the connection from Genesis to Revelation." Despite her original intent, she and her sister, with whom she had written Abby Smith and her cows (which chronicled their tax resistance struggle for the suffrage cause), bore the expense of publishing her translation. The cost of the 1,000 copies was $4,000, but the pair offered them for $2.50 each. Roughly fifty were still remaining among her personal possessions when her estate was auctioned off in 1884.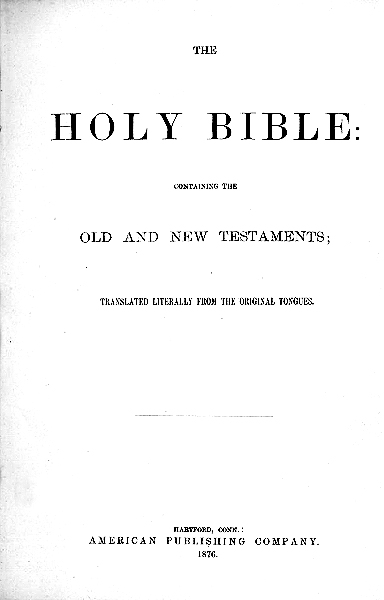 Her translation, titled The Holy Bible: Containing the Old and New Testaments; Translated Literally from the Original Tongues, is considered the first complete translation of the Bible into English by a woman. Smith biographer, Emily Sampson, believes that Smith's work deserves greater recognition as her translation anticipated many trends followed by later translators. It fell into obscurity because it was clumsy in places due to its literalness. It is worth noting that this translation, which can provide the reader with a new look on texts, was the only English translation out the original languages available to English readers until the publication of the Revised Standard Version in 1952. The Revised and the American Standard versions were adaptations of the text of the King James.
If you are unable to visit the Archives & Special Collections in person to see Smith's translation, you may see the text online at: http://studybible.info/JuliaSmith