Though, as of the writing of this blog, it is not a beautiful day in Chicago with its heat index in the 100+ degree mark for several days running, the radio career of Everett Mitchell was signified by his recognizable phrase.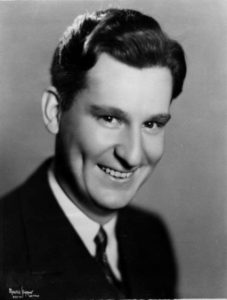 Everett Mitchell, born March 15, 1898, grew up on a small farm near Chicago in Oak Park, IL, just eight months after radio was invented by Guglielmo Marconi in 1897. Growing up impoverished, Mitchell once had to wear his sister's hand-me-down shoes to school. Of Quaker lineage, he learned dozens of hymns at an early age and often sang as he performed his chores. Soon his melodious voice attracted the attention of local churches seeking musicians and revivalists. One of the nation's prominent evangelists, Gypsy Smith, noticed young Everett and hired him as a soloist for Smith's revival services at Pacific Garden Mission in downtown Chicago. Smith later convinced Billy Sunday to utilize Mitchell's talent for summer revival services at Winona Lake, IN. There he sang hymns during Sunday's invitation plea, imploring hundreds of seekers to accept Christ as savior.
After completing high school, Mitchell worked as a clerk at First Trust and Savings Bank and in the evening he moonlighted as a part-time announcer for station WENR. The bank supervisor noticed Mitchell's often bedraggled appearance after his radio gigs presented him with an ultimatum: leave radio or be fired. Mitchell quit with little deliberation. As he departed, his supervisor fumed: "Radio is nothing but a passing fad!" Mitchell entered full-time at WENR where he soon developed a consistent programming format, allowing a convenient predictability for both the performer and the listener. Now he could schedule jazz, gospel or classical music ahead of time and advertise, thus hooking the audience. For Mitchell, this was a definitive first in a long career of firsts.
Mitchell later departed WENR for NBC, assuming responsibilities as announcer for the "National Farm and Home Hour," a program dedicated to presenting livestock reports and light entertainment. As host, he was posed with two dominant tasks: 1) be friendly with the audience; and 2) be accurate with the reports. Mitchell got the job because he was the only person in the 26 applicants who could describe the difference between a strawstack and a haystack. Soon after, the Great Depression devastated the country, hurling thousands of Americans into financial ruin. On May 14th, 1932, riding the train to work, he wondered how he might relieve their distress. Ironically, the same day's papers carried news of the Lindbergh baby's murder.
Mitchell recalled that "It was raining and misting. It was in the depths of the Depression," and "a fellow on the train was complaining about the weather and hard times. He said, 'As far as this nation is concerned, we're doomed. God has forsaken us.' And I said, 'No, we've forsaken God to worship the almighty dollar.'" That morning, Mitchell, not discussing his intent with the station management, stepped to the microphone to introduce the show, stating confidently: "It's a beautiful day in Chicago! It's a great day to be alive, and I hope it's even more beautiful wherever you are." He hit the "beautiful" really hard.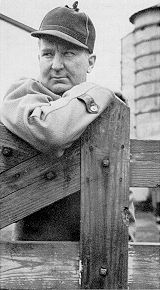 The impromptu greeting upset the management, but created a sensation among an audience desperately hungry for good cheer. The station received 13,000 calls and letters and as a result, the phrase became his signature for the remainder of his career.
An extensive traveler, Mitchell did half of his shows from farm locations. He traveled over 2 million miles and visited over 50 countries, reporting on agriculture in Europe, Central and South America, Russia and Asia. He served as a war correspondent in Korea, investigating famine.
Mitchell died November 12th, 1990, in Wheaton, Illinois where he and his wife lived on Beautiful Day Farm.