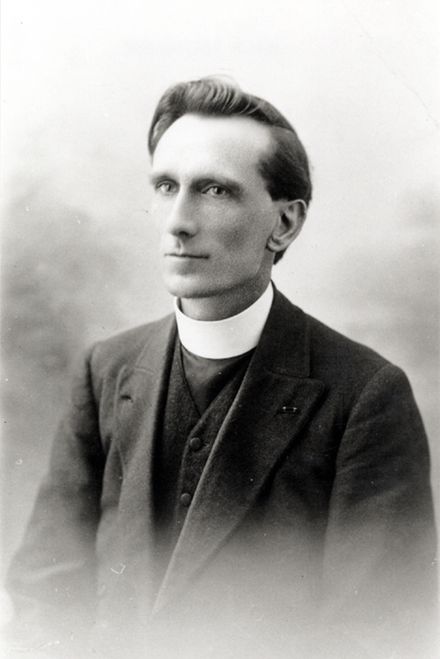 100 years ago today, teacher and evangelist Oswald Chambers passed away while serving as a chaplain in Egypt during World War I. Chambers was born  on July 24, 1874, to Clarence and Hannah Chambers in Aberdeen, Scotland. Chambers' best known work, My Utmost for His Highest, has stayed in print since its first publication in Britain in 1927.  It has been translated into over forty languages and ranks in the top ten of religious bestsellers in the United States with millions of copies in print—becoming a Christian classic.
In October 1915 Oswald traveled to Cairo, Egypt to work with soldiers through the YMCA.  Two months after Oswald's arrival, his wife, Biddy and two-year old daughter, Kathleen joined him and together they began a ministry among the thousands of soldiers stationed there.  While in Egypt Chambers served the soldiers as a counselor, pastor, and teacher.  He was available daily to meet with them and held daily bible studies.
Though there were others from the YMCA assisting in the work, it was demanding and took a toll on Chambers' health as can be seen by his tired and drawn appearance. 
One comfort was that Biddy and Kathleen were in Egypt with him.  On October 29, 1917 Oswald was taken to a Red Cross hospital in Cairo with severe pains in his abdomen.  An emergency appendectomy was performed that evening, and Oswald began to recover.  A week later he suffered a series of relapses from a blood clot in his lung, and he died on November 15, 1917.  Word was spread to England and abroad by cable that read "Oswald in His Presence."
One friend wrote in his diary that he was shaken by Oswald's death, not with "hopeless sorrow or resentment, but sheer staggerment."  100 soldiers were a part of the funeral cortege while Samuel Zwemer, a missionary to Muslims, spoke at his graveside service.  His life was described as the "finest commentary on the Sermon on the Mount."
Those assembled at the grave sang Psalm 121 from the Scottish Psalter:
I to the hills will lift mine eyes
From whence doth come mine aid.
My safety cometh from the Lord,
Who heav'n and earth hath made.
Thy foot he'll not let slide, nor will
He slumber that thee keeps.
Behold, he that keeps Israel,
He slumbers not, nor sleeps.
The Lord thee keeps, the Lord thy shade
On thy right hand doth stay:
The moon by night thee shall not smite,
Nor yet the sun by day.
The Lord shall keep thy soul; he shall
Preserve thee from all ill
Henceforth thy going out and in
God keep for ever will.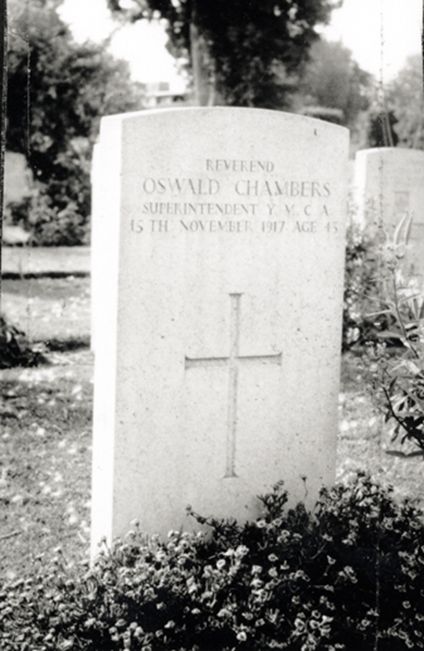 In many ways, Chambers' death should have been lost to our memories amidst the staggering losses of World War I.  But this is not the case.  Though an accomplished teacher his writings and name are more known today than when he was alive.  All of the published writings of Oswald Chambers come from the sermons and lessons he gave, which Biddy took down verbatim in pitmanic shorthand (up to 250 words a minute) and then transcribed after she and Kathleen returned to England.  The vast majority were published posthumously.
Special Collections, Buswell Library received the Oswald Chambers Papers from the Oswald Chambers Publications Association in England in 2002.  The archive consists of 50 boxes of materials, books and photographs primarily gathered by David McCasland during his research for writing the biography, Oswald Chambers: Abandoned to God.  The collection includes Oswald's published writings, correspondence, samples of Biddy's shorthand notes and other materials relating to his education, growth and years of Christian ministry.  Of special interest are the class notes and personal diaries of Eva Spink—a student of Chambers' at the Bible Training College in London and a co-worker in Egypt.