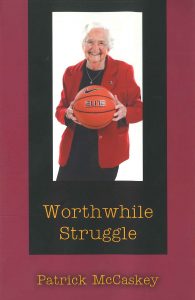 Worthwhile Struggle by Patrick McCaskey features a grab bag of inspirational stories woven with tales of exemplary athletes. Included are McCaskey's "10 Commandments of Football," based on his upbringing in the Halas-McCaskey family with the Chicago Bears. Deeply involved with faith-based initiatives and charitable causes, McCaskey is active in promoting strong principles and honest gamesmanship.
In the chapter titled "Oswald Chambers," McCaskey briefly highlights the life and ministry of the great Scottish preacher, including a photo of Chambers with his wife, Biddy, and their baby daughter, Kathleen. The image is archived in Special Collections, Buswell Library, Wheaton College (SC-122)
McCaskey also profiles his friend, Wayne Gordon, who graduated from Wheaton College in 1975, and currently serves as the pastor of influential Lawndale Community Church. "You won't see Coach Wayne Gordon's name in the headlines or his face on television," writes McCaskey. "And yet, he has been one of Chicago's movers and shakers for over 40 years…He is about selflessly helping others get a fair shake, helping others succeed, helping others build their own healthy community, and helping others to live faithfully."
Pat McCaskey is a Board Member and Vice President for the Chicago Bears. Encouraged by his grandfather, George Halas, he attended DePaul University, where he earned his master's degree. He is the author of six books.