Dr. Leighton Ford is President of Leighton Ford Ministries, preparing younger leaders to spread the gospel of Christ to a needy world. From 1955 until 1985 he served as Associate Evangelist and later Vice President of the Billy Graham Evangelistic Association. Ford's ties with Billy remained strong throughout the decades.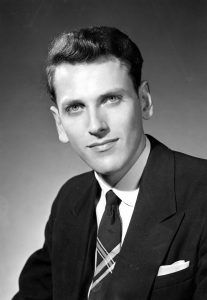 Not only were they eventual brothers-in-law, but the renowned evangelist, preaching at a 1949 Youth for Christ rally in Chatham, Ontario, suggested to young Leighton that he consider attending Wheaton College near Chicago instead of Knox College in Toronto. Persuaded, Leighton packed his bags and headed south to the Land of Lincoln. Biographer Norman B. Rohrer relates a few episodes from Leighton Ford: A Life Surprised (1981):
The gray Oldsmobile was loaded for the trip that would take Leighton to Illinois, farther from home than he had ever traveled. Mrs. Ford insisted on going along and further embarrassed her son by renting an apartment near the campus to keep an eye on him…All who entered with Leighton in 1949 signed a pledge of total abstinence from tobacco, liquor, and movie-going. Mrs. Ford, watching from her post off-campus, found the movie ban curious. Her austere conservatism could match anybody's, but she had not struck movies off her list of permissibles. She tugged occasionally on the apron strings from her watchtower while Leighton tried to keep her clinging presence a secret.
Wheaton [College] was a daily serendipity for the young preacher. His room was only a few blocks from the international headquarters of Youth for Christ where his heroes came and went. Gil Dodds, world champion indoor miler, was Wheaton's track coach; a school friend named Bill Davies was the brother of internationally famous basketball star Bob Davies, who had embraced the Christian faith.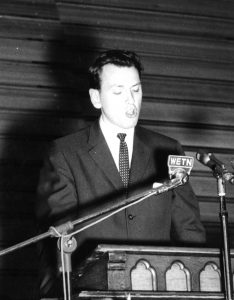 Many thought that Leighton had copied Billy Graham's style of preaching. The similarities were explainable: both were tall (Leighton nearly an inch taller than Billy) and thin (Leighton runs ten pounds lighter than his brother-in-law but is an inch broader in the shoulders). Both have the same vocal characteristics. Both have expansive gesticulation, a commanding voice, an urgency of theme. And both were caught up in the fervor of the new Youth for Christ movement that demanded such a flamboyant style.
In 1951 Leighton became a candidate for student body president during his senior year. He persuaded a reluctant Sam Befus to manage his campaign and the stage was set. For buttons blossomed. His campaign slogan was: "There's a Ford in your future." Posters showed a boy and a girl — the girl poised for a kiss, the boy admiring instead a passing Ford car. It was the wrong poster for conservative Wheatonites in the early fifties.
Leighton's nimble mind was a seedbed for the postulations of such professors as Merrill Tenney, Arthur Holmes, Kenneth Kantzer and Clarence Hale….Leighton was qualified to enter upon his college major of philosophy. He proved it by graduating with the highest score on his comprehensive examinations of all other students in Wheaton's 92-year history.
Leighton Ford is the author of several books, including Sandy: A Heart for God, chronicling the unexpected death of his son. His autobiography, A Life of Listening: Discerning God's Voice and Discerning Our Own, was released by InterVarsity Press in 2019.