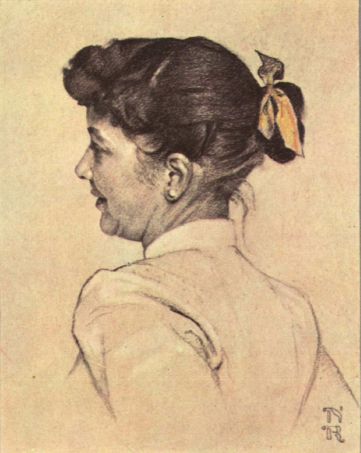 A copy of Norman Rockwell's autobiography, My Adventures as an Illustrator (1960), archived in our Rare Book Collection (SC-10), boasts an intriguing inscription: "My best wishes to the art department at Wheaton College, sincerely, Norman Rockwell. My late and beloved wife, Mary Barstow Rockwell, was a native of Wheaton." At the bottom of the page is another handwritten note, declaring that the book is dedicated to Mary, and directs the reader's attention to her portrait on page 9, seen here.
Mary was the daughter of Alfred E. Barstow of California, and (Dora) Bernice Gary of Wheaton, IL; Dora, who took science courses at Wheaton College, was the niece of the famed U.S. Steel founder and Gary, Indiana namesake, Elbert Gary. Mary, born November 26, 1907, studied education at Stanford University Graduate School.
The circumstance under which the book was signed is not known. Rockwell divorced his first wife, Irene, in 1930. He was married to Mary from 1930 until her death in 1959, after which he married Molly Punderson in 1961. The famed Saturday Evening Post illustrator died in 1978 at his home in Stockbridge, Massachusetts.