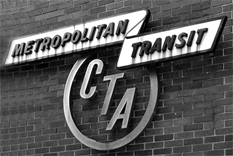 Many artists admit that motion stimulates creativity. A somewhat surprising source of imaginative inspiration is the Chicago Transit Authority (CTA). For many years it proved to be a dark but generous muse for Chester Gould, creator of the Dick Tracy comic strip. Each weekday Gould rode the train from his home in Woodstock, Illinois, to downtown Chicago where his office in Tribune Tower was located. Known for devising spectacularly nasty opposition for his square-peg hero, Gould frequently modeled his villains on the physical characteristics of the passengers sitting near him. One of his best-remembered baddies, Pruneface, was patterned after a horrifically scarred WWII vet. Other notorious mugs from Tracy's Rogue's Gallery were Flattop, Mrs. Prunface, the Brow, Pear Shape, the Mole and Little Face Finny.
Another proud graduate of the "CTA School of Artistic Expression" is Vinita Hampton Wright. Working as an editor at a Christian publishing house, Wright daily rode the train from her home in southside Hyde Park to suburban Wheaton. Already busy with various projects, she decided to use the travel time to finish her novel, Grace at Bender Springs (1999). After politely asking her usual commuting companions to ignore her as she concentrated, she opened her laptop and typed for the duration of the trip. When the book was published, she gave them free copies.
Reversing Wright's trajectory was Dr. Ken Taylor. In the early 1960s Taylor rode the CTA from his Wheaton home into Chicago, where he served as Editorial Director of Moody Press. Desiring to produce a paraphrased Bible that appealed to young, modern eyes, Taylor, now concentrating on the Pauline epistles, set about performing his task during the morning journey. He writes: "…I sat with a Bible on one knee and a writing pad on the other. I tried to keep everything balanced and not let it fall over on my seatmate as he perused the morning paper." And so, "…as the swaying train bumped along over the tracks," he eventually completed The Living Bible, providing the foundational publication for the successful Tyndale House Publishers, international distributors of books, Bibles and videos.