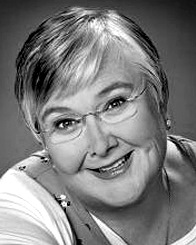 Sue Thomas was born in 1950. At the age of 18 months she experienced an instant and total hearing loss. With the support of her parents she spent years with therapists learning to communicate and read lips despite being profoundly deaf. Instead of being relegated to an institution her parents were determined to help their only daughter become a success among the hearing. Although having academic challenges as the only deaf child in her public school district near Boardman, Ohio, she focused her energies on skating and became the youngest Ohio State Champion free-style skater.
She persevered through her schooling and finally graduated from Springfield College in Massachusetts with a degree in Political Science and International Affairs. She was hired by the Federal Bureau of Investigation as a fingerprint examiner and then as an undercover investigator doing surveillance work reading lips for the FBI agents in Washington D.C.
In 2002 her inspiring story was adapted for television and aired as a weekly drama. At its peak, "Sue Thomas: F.B.Eye" was watched by more than 2.5 million viewers in the United States and was syndicated in 60 countries. It has since generated a loyal fansite, Facebook, and Twitter pages.
Prior to her international acclaim, Sue Thomas spoke in Edman Chapel in December 1991 to the Wheaton College family and shared her Christian testimony. She had recently written her autobiography "Silent Night" which has since been updated for it's 20th anniversary edition.
[excerpted from Wikipedia and Sue Thomas Productions]

(mp3 – 00:38:26)