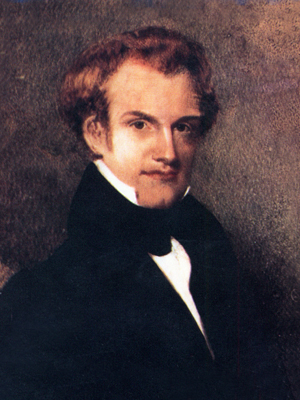 January 19 is the birthday of Jonathan Blanchard and 2011 marks the bicentennial of his birth. Blanchard had several careers of significance prior to his coming to the dreary open prairies of Wheaton Illinois in the late 1850s. He had taken great risks as one of "The Seventy" disciples of abolitionism. He was a very successful pastor in Cincinnati. He was active in getting the Liberty Party in Ohio off the ground and was friend of future members of Congress and the U. S. Supreme Court, even serving to introduce the two. He was offered a professorship of the fledgling Oberlin College and the presidency of a vibrant activist mission institute. In addition he represented his nation at the second World's Anti-Slavery Convention in London and served as one of its vice-presidents. He also publicly debated the sinfulness of slavery with a fellow minister over four days for hours each day (these were later published and can easily be found in bookshops and libraries worldwide). He also debated Stephen Douglass. Finally, before his trek from the prosperous Galesburg to Wheaton, Jonathan Blanchard served as the second president of Knox College. His able skills brought the school recognition and solid finances.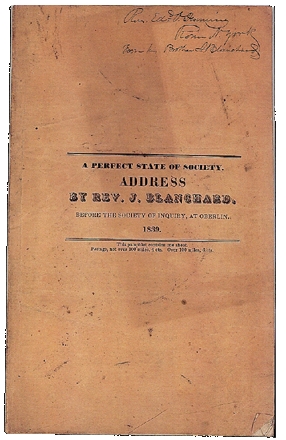 In this midst of this great career was an address that Jonathan Blanchard gave to the Society of Inquiry at Oberlin College in 1839. It was this address, A Perfect State of Society, that Jonathan Blanchard detailed his hopes and aspirations for a nation. It was these ideals that shaped his life and career as he sought to ameliorate the ills of society to usher in a state of society that would be ready for the reign of Jesus Christ. It was not that the world and society would have reached sinlessness but that things were in such order, where what needed restraint was restrained, that there was harmony. Like children need discipline, so too elements of society needed structure and restraint.
In The Perfect State of Society Blanchard sought to:
Specify some things which we are not to expect; — and
Some things we ARE to look for in a Perfect State of Society.
Suggest some of the ways and means by which this desired condition of things is to come.
Blanchard didn't want his listeners, and later his readers, to misunderstand. This perfect state of society was not a return to Edenic glory. It was a place where the Gospel had done for all what it could do for one. The Gospel's function was to restore and reclaim. This society would "take up sinful mortals and fit them for heaven." "Society is perfect where what is right in theory exists in fact; where practice coincides with principle and the law of God is the law of the land."
If one wants to understand the life and mind of Jonathan Blanchard, particularly on this bicentennial, then one must understand and engage A Perfect State of Society. This address will not only help you understand this forgotten figure of 19th-century American history, but it will help you understand the time in which he lived–a time filled with Utopian ideals.

– Download A Perfect State of Society, 1839 (17 pages)