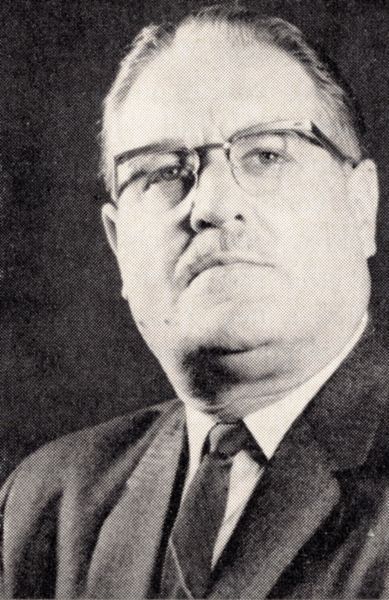 This installment of "What Wheaton College Did for Me" by Raymond H. Crawford '40 appeared in the June, 1966, Wheaton Alumni magazine. He was pastor of Grace Baptist Church in Netcong, NJ, and edited a weekly newspaper.

Naturally I want to say it all; obviously I cannot. Some day I may. The long and remarkable shadow of Wheaton College on my life is delineated by an all-embracing phrase, "the constraining love of Christ." This held me, molded me, directed and disciplined me during the formative years as well as these fabulous years of living "For Christ and His Kingdom." It all started in Grand Central Station, New York, back in the fall of 1935. Orphaned as a small child, I was a veteran at making decisions; here I made a decision that altered the course of my life. I wanted to go to Ft. Worth but was advised to go to Wheaton. At the ticket window I was still undecided and heard myself saying, "Chicago." The ride out was a torment of indecision. Somehow, but not triumphantly, I arrived at Wheaton.
That night I stayed with Clarence Hale's father. And that night I discovered Christian love and concern which, for me, has always expressed the spirit of Wheaton College. My fears were dispelled and my indecision checked. Suddenly I "belonged," and this extended to the whole Wheaton family. I wanted to be a journalist; God wanted me to be a minister. He used John Ballbach the following February to lead me to Christ. Scores of others nourished this new Christian. Among them were Dr. and Mrs. Tiffany, Mother Winsor and Alice Winsor, Dr. Darien Straw and Dr. Marion Downey. Among the students were Bob Evans, Warren Schuh, Carl F.H. Henry, Dick Seume and many more. Perhaps more than any other Dr. Edman, as pastor of the Gospel Tabernacle and later President of the College, "restored to me the years that the locust has eaten."
As the final act of love and dedication of Wheaton's family, Dr. Edman tied the knot with a lovely co-ed on her graduation day. He also provided my wedding suit and shoes! To the question, "How can I ever repay all these Christian tangibles and intangibles?" the answer came, "Pass it on." I found at Wheaton a seriousness of purpose, dedicated scholarship, ethics and ideals I hardly knew existed. My teachers stimulated me and drilled me in the mental and spiritual disciplines that have followed me through the years. At Wheaton I learned to study. But I learned something more; the quality of heart that gives meaning to our message in a day of false values. After 23 years in one church, 40 miles west of Grand Central Station, we find it necessary to build a new one. In all, five of our church family have gone to Wheaton. My son is a Wheaton grad, married a Wheaton girl and is a minister in Canada. My daughter attended Wheaton and Nyack and is married to a minister serving in West Virginia. That yen for journalism has found a rich place in my ministry. For 15 years – on and off – I have edited the area weekly News-Leader, whenever one of our boys took off for new pastures. This has proved an amazing adjunct to our work. "Friend Wife" teaches in the local high school.
I didn't know much about God's leading in 1935, but there are no doubts in 1966. Can you wonder why I have a misty affection for that drafty sanctuary in New York where God spoke and Wheaton answered?