Betsy Palmer simply needed funds for a new car when she accepted the role of Jason Voorhees's demented mother in the wildly successful slasher flick, Friday the 13th (1980). Reading the script, she realized it wasn't exactly Shakespeare. "I never expected that anyone would see that darn thing," she recalls. Nonetheless, her performance brought her a measure of fame that she had not before enjoyed. (In fact, she was nominated for a Golden Rasberry Award for Worst Supporting Actress). Asked about her "accidental" association with the horror genre, she remarks, "I love it. It's exposed me to a whole new generation that didn't know I existed."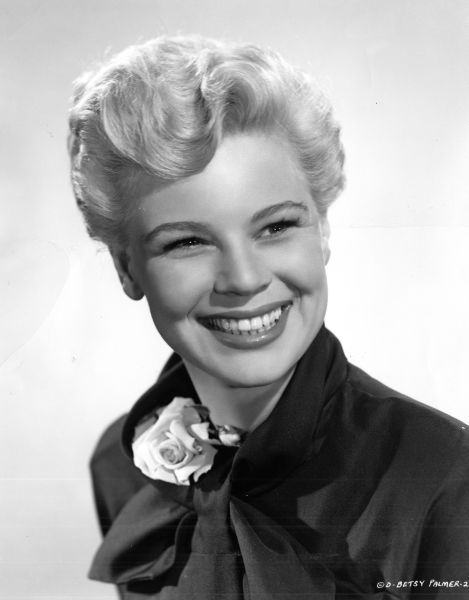 Though movie buffs remember her for this role, Palmer had performed for decades in a variety of productions, on film, television and stage. She acted alongside Jack Lemmon, James Cagney and Henry Fonda in Mister Roberts (1955); she appeared with Joan Crawford in Queen Bee (1955) and Tyrone Power and Maureen O'Sullivan in The Long Gray Line (1955). She was a panelist on the game show, I've Got a Secret, and appeared twice on the cover of TV Guide. She also acted on As the World Turns, The Love Boat and Knots Landing. In 1964 she recorded "Betsy's Fashion Notebook," an album featuring her cosmetic tips; and in 1969 she won the "Straw Hat Award" for her starring performance in the theatrical production of The Prime of Miss Jean Brodie. However, her life swerved from its familiar patterns when, returning home after a stint as Nora in Ibsen's A Doll's House, she decided to end her 19-year marriage to New York gynecologist Dr. Vincent J. Merendino. "We married each other for the wrong reasons," she said. "I married a doctor and he married an actress." She turned her life over to God and experienced a new peace. "It was as though God welcomed me home. I began to see it was alright for God to take over." She and Merendino had one daughter, Melissa.
Aside from show business, Palmer served on the Greater New York Advisory Board of the Salvation Army. A formal commendation from the Army acknowledges "…her active commitment of time, talent and resources to aid those in need in the New York area…" and "…her warmth of personality and grace, which has made her a standout in all phases of the entertainment industry…"
"Breezy" Betsy Palmer, ever gracious, offers this advice: "Instead of worrying about what other people think, don't try to act, just be who you are from moment to moment. Give 100% of yourself, and if that's not enough for someone that's judging you, at least you have the integrity of knowing that you've done the best you can." In 1985 she visited her high school in East Chicago, Indiana, her hometown. The mayor proclaimed it "Betsy Palmer Day" and offered her the key to the city.
Palmer's papers (SC-28), comprising correspondence, scrapbooks, newsclippings and photos, are housed at Wheaton College Special Collections.