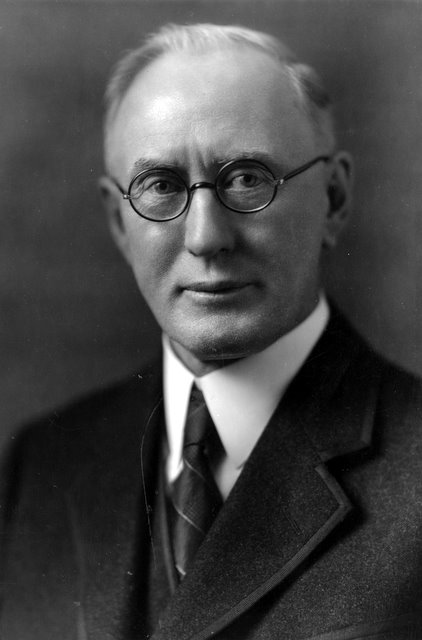 Orrin E. Tiffany was born March 27, 1868 to DeWitt and Lidia Parker Tiffany and grew up in Havana, Minnesota. After the death of his first wife of twenty-five years, Grace English, Dr. Tiffany married Kathrine Bellanger MacDonald in 1925. Dr. Tiffany came to Wheaton College in 1929 as Chairman of the Department of History and Social Sciences, and was Professor of American and Recent World History until his retirement in 1945. Among his students and faculty colleagues he was well known for his interest in world affairs; former graduates of the department frequently wrote to him for his views on international developments. Tiffany earned his A.B., A.M., and Ph.D. degrees at the University of Michigan, and was among the first recipients for the Phi Beta Kappa honor shortly after it was offered. In 1945, Seattle Pacific College conferred on him the honorary degree of Doctor of Laws. Before coming to Wheaton College, Dr. Tiffany held professorships and administrative posts at Greenville, Western Maryland, Seattle Pacific, and Whitworth College. In 1945 he attended the United Nations Conference on international organization in San Francisco. His most important contribution to scholarly writing was The Relations of the United States to the Canadian Rebellion of 1837-1838, published by the Buffalo Historical Society, and considered by recent historians as still "the most detailed study" and "the most satisfactory treatment of the subject." Tiffany died February 2, 1950.
The Tiffany Memorial Lectures were established nearly fifty years ago in 1952 at Wheaton College in honor of the late Dr. Orrin Edward Tiffany. The aim of the Tiffany Memorial Lecture on Foreign Affairs is to foster interest in and understanding of international affairs on the college campus. Past speakers include Kenneth Landon, Robert McNamara, Zbigniew Brzezinski, Mark Hatfield, John Lewis Gaddis, Robert Pastor, Anthony Lake, Robert Seiple, and James Turner Johnson.
The Orrin Tiffany Papers are available to researchers at Wheaton College. The collection contains general biographical information on Dr. Tiffany, including information regarding his activity at Greenville College, Seattle Pacific College, Whitworth College, and Wheaton College. There are materials related to his book, Canadian Rebellion, and a series devoted to the Tiffany Memorial Lectures at Wheaton College. The materials relating to the Tiffany Lectures comprise the bulk of the collection.