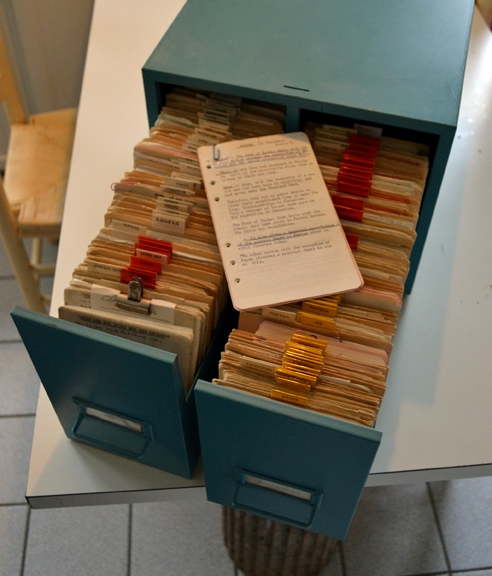 In recent weeks a nondescript box arrived at the Wheaton College Special Collections containing the sermons of Harold LeRoy Patterson, third chaplain of Wheaton College, and affectionately referred to as "Chaplain Pat." The sermons were originally grouped by subject and stored in a small filing cabinet measuring 12″x10″x16″. They were meticulously organized and written or typed on 4.25″x7″ sheets of paper.
Harold LeRoy Patterson was born in Juniata, Pennsylvania on April 2, 1918 and grew up in a railroad town as a star athlete in track and football. He attended Wheaton College along with his older brother and excelled in wrestling, baseball, and football. He met his future wife, Inez Peterson, from Detroit and the two were married and had three children—Patricia, Linda, and Dale.
He left Wheaton to finish his studies at Gordon College, in Wenham, Massachusetts and then enrolled in Gordon Seminary (now Gordon-Conwell Theological Seminary). While at seminary, he took the pastorate at a small church in Milton Mills, New Hampshire. After seminary, he joined the U.S. Army as a chaplain and while serving he attended the Nuremburg Trials in 1946. Returning to the United States, he pastored a church in Saginaw, Michigan, and then moved on to serve a church in Lansing, Michigan, where his preaching and leadership led to the creation of a school and youth outreach ministry. He then moved to South Park Church in Park Ridge, Illinois—just outside Chicago. He spoke at many churches in the Midwest and was a regular guest on religious radio, a prayer-leader for the Chicago Bears and other sports teams. He wrote for local papers and began to write regularly for national evangelical magazines. His wider ministry included flying to and over the Andes Mountains to take Bibles to native peoples in the South American interior and also in India.
In 1973 he returned to Wheaton College to serve as chaplain and was inducted into the inaugural Crusader Sports Hall of Honor class of 1976. In 1982, the Alumni Association named him Alumnus of the Year for Distinguished Service to Alma Mater for his devotion to Wheaton College and commitment to the spiritual and personal growth of Wheaton students, faculty, and staff. He retired to Stuart, Florida where he was a guest minister at several churches and kept up his writing. After a time, he and Inez relocated to Stroudsburg, Pennsylvania, and finally to Media, near Philadelphia, where Reverend H. LeRoy "Pat" Patterson '40, died on March 13, 2011. Upon his death Chaplain Pat's family established an endowed fund to support chapel programming at Wheaton College.
A fuller biography by Ray Smith '54 is available here.