Guest posting by Special Collections staff member
The current King of Thailand, Bhumibol Adulyadej, is known as a stern and tough Monarch. Though his authority is not absolute, he continues to wield considerable influence within his country and beyond. In line with past Kings and Queens of Thailand, he is known for having those who criticize him jailed for 3-15 years under Thailand's lese-majeste laws. He has been on the throne longer than any living Monarch–since 1946.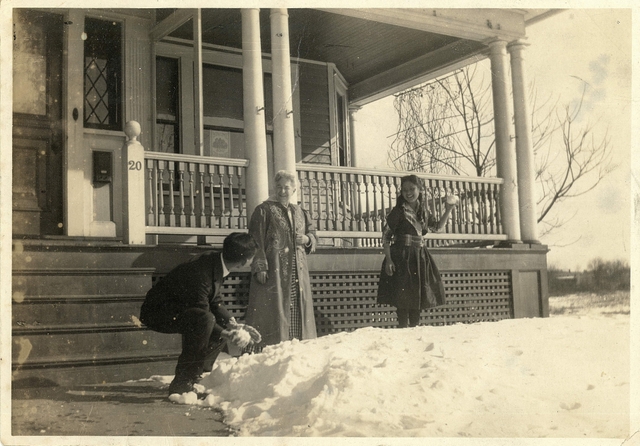 It is not as widely known that both the King's mother (Sangwan Talapat) and father (Prince Mahidol) lived and studied in the United States prior to their marriage in 1920. Sangwan had received a scholarship to study nursing and Prince Mahidol was studying public health at Harvard at the time. This candid photo, dated 1919, shows the Prince and his wife-to-be in front of the home of Mrs. Strong in Hartford Connecticut. Sangwan lived with the Strong family for several months in 1918 and 1919, prior to her engagement and eventual marriage to the Prince. It was apparently Sangwan's first time to see snow. The photograph is part of the Margaret and Kenneth Landon Collection.
———-
The Margaret and Kenneth P. Landon Papers are housed in the Wheaton College Archives & Special Collections and are available for research.