by Dr. Edwin A. Hollatz G.S. '55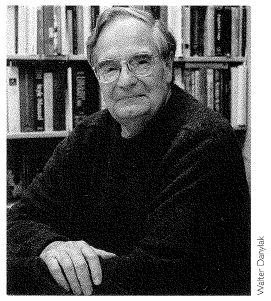 The Bible has much to say about human speech, about the way we use this wonderful gift that God has given us. This investment of creative expression through language is perhaps one dimension of the image of God imbued in the very nature of human beings, spoken of in Genesis 1-2.
It is this which lifts us from the level of the dumb brute and enables us to express not only what we think and feel, but who we really are. We can conceive of anything in words and images, with limitless possibilities of fact and fantasy. The panoply of literature throughout human history gives evidence of that which is most exalted as well as most debased.
During this past Christmas season we were reminded again of God's supreme communication to us in His Son, Jesus Christ. The Apostle John, in Chapter 1 of his Gospel, speaks of Jesus Christ as the Word of God, which became flesh–a veritable transmutation of the eternal, divine, creative Word, now come in human form. That Word, full of grace and truth, has the power to redeem us, bringing light and life so that we might receive Him and become children of God.
As new creations in Christ, what about our words? How true and clear are their statements in revealing the character of the life of a follower of Jesus Christ? Are our words an adornment to the power of the gospel of Christ?
In Matthew's Gospel, Peter twice denied being one of Jesus' followers, even using and oath. But others standing by said, "Surely you are one of them; for your speech betrayeth you" (Matt. 26:73 KJV).
The Book of Judges relates another incident in which one is betrayed by one's speech. The Gileadites could distinguish an Ephraimite if he mispronounced the word "Shibboleth." If he said "Sibboleth," he would be seized and killed (Judg. 12:5-6).
These two episodes from Scripture vividly portray how one's speech accent may have unfortunate consequences. But at a more significant level, the "accent" provided by our manner of living can be crucial. Around 40 B.C. the Roman Publius Syrius said, "Speech is the mirror of the soul. As a man speaks so is he."
Some 70 years later Christ said, "Out of the abundance of the heart the mouth speaks. The good person brings good things out of a good treasure, and the evil person brings evil things out of an evil treasure. I tell you, on the day of judgment you will have to give an account for every careless word you utter; for by your words you will be justified, and by your words you will be condemned" (Matt. 12:34-37, NRSV).
The Apostle Paul warns us, "Do not let any unwholesome talk come out of your mouths, but only what is helpful for building others up accordmg to their needs, that it may benefit those who listen" (Eph. 4:29, 31-32, NIV).
May the eloquent words of the old Anglican hymn be true of us as gifted human beings, created in the image of God:
God be in my heart,
and in my thinking;
God be in my head,
and in my understanding;
God be in my mouth,
and in my speaking.
———-
Twenty years ago, the Wheaton Alumni magazine began a series of articles, titled "On My Mind", in which Wheaton faculty told about their thinking, their research, or their favorite books and people. Former Professor of Communications Emeritus, Edwin A. Hollatz '55 (who taught at Wheaton from 1954-2000) was featured in the Winter 1998 issue.

Having worked at the College since 1955, Dr. Edwin A. Hollatz has taught speech, coached award-winning debate teams, served as faculty advisor to WETN radio, and helped establish the theater program. He has held offices in professional organizations, authored numerous journal articles, and been chosen for membership in several honorary societies. Dr. Hollatz is a frequent speaker at Wheaton Club meetings and received the Alumni Association's 1993 Distinguished Service to Alma Mater Award. He and his wife, Joanne Simon Hollatz '55, whom he met when Joanne joined Wheaton's faculty, held their wedding reception in the Memorial Student Center. They are the parents of Cheryl Hollatz-Wisely '85 and Celia Hollatz Bergman '87.