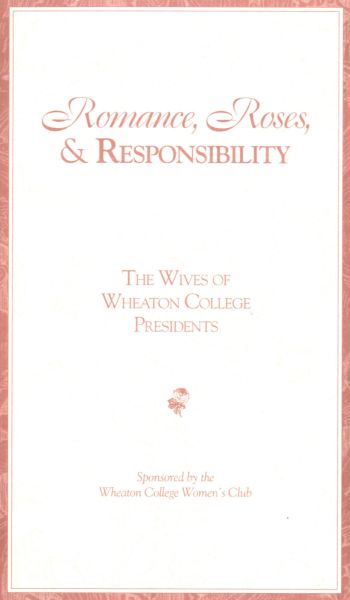 The presidents of Wheaton College are lauded for their leadership, guiding the institution through the decades, holding close its motto, "For Christ and His Kingdom." But leadership is usually a partnership; and surely every man would respectfully defer to the invaluable contribution of his wife. Ruth Cording, former archivist at Wheaton College, composed a booklet, Romance, Roses and Responsibility, celebrating the lives of these faithful women. Cording profiles the following: 1. Mary Blanchard, wife of founder Jonathan Blanchard. 2. Margaret Ellen Milligan, first wife of second president Charles Blanchard, who died during her early motherhood. 3. Amanda Jane Carothers, second wife of Charles Blanchard, died from scarlet fever. 4. Frances Carothers, third wife of Charles Blanchard, who was a physician and wrote a biography of her husband. 5. Helen Spaulding Buswell, wife of J. Oliver Buswell, third president of Wheaton College. 6. Edith Olson, wife of V. Raymond Edman, fourth president. 7. Miriam Bailey, wife of Hudson Armerding, fifth president. 8. Mary Sutherland, wife of Richard Chase, sixth president. 9. Sherri Elizabeth, wife of Duane Litfin, seventh president.
Commenting on her use of the rose motif, Cording writes:
Mary Blanchard brought her roses from Cincinnati when she and her husband, Jonathan, Wheaton's first president, came to Knox College in 1845. Those rose bushes were then transplanted to their home on South President Street when the Blanchards moved to Wheaton, In 1863 the bushes were moved to the college and planted in front of Blanchard Hall near the east door. Some of the bushes were also planted, at the request of Jonathan Blanchard's granddaughter, Geraldine Kellogg Dresser, and when she died, former president V. Raymond Edman referred to the "heritage of roses," stating that she "passed the Blanchard heritage to us with roses." In 1984 I noticed that the roses in front of Blanchard Hall were just about ready to go into pink bloom, but that the remodeling of the front of Blanchard would threaten their blossoms. The college gardener was alerted and all the remaining bushes were moved to the front of Westgate, the current home of the Wheaton College Alumni Offices. They are now appropriately marked with plaques, showing that they were originally brought to Wheaton by Mary Bent Blanchard – 150 years ago!