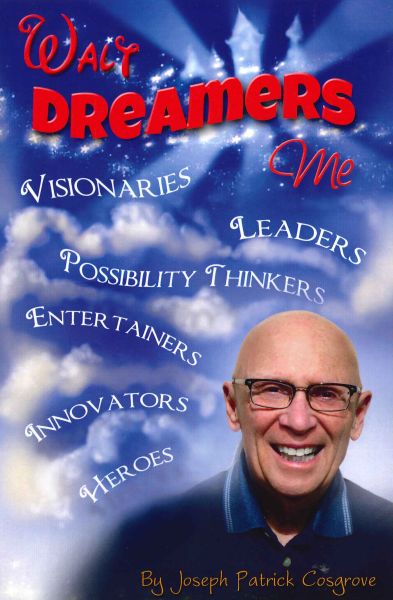 No common book cites among its Acknowledgements celebrities such as Walt Disney, Bob Hope, Steve Allen and Jack LaLanne along with theologian E.J. Carnell and evangelist Charles E. Fuller, but Joseph Patrick Cosgrove ('54), producer, director and broadcaster, happily thanks  these and others in his memoir, Walt Dreamers Me (2013), for contributing to the rich diversity of his life.
Originally from Boston, Cosgrove includes a few entries about his days at Wheaton College. A sampling:
Arrival – Wheaton College. With a letter of recommendation from Dr. Ockenga, I am off to Wheaton College, Wheaton, Illinois. I am the only one from my neighborhood seeking higher education. I am now on my journey of life and closer to my goal of going to California.
Overwhelmed College Daze. Taking a full load of classes and working full time to pay tuition overwhelms me and I withdraw from Wheaton at the end of six weeks and return to Boston. As I meet with my pastor, Dr. Harold Ockenga, I am convinced to return to Wheaton after only one missing week. Dr. Ockenga personally pays for my first semester and arranges with the college Dean for my return to college life. Dr. Ockenga has become a father figure to me. There is no going back to Boston. I am off and running and work long hours through each summer and spring break to pay my living expenses as well as my tuition and books.
The Learned Campus Lessons. Living in a college dormitory and attending college class is a challenge for me. Daily chapel is mandatory at Wheaton College in 1950. Wheaton is a well-known and conservative evangelical institution with a reputation for high scholarship. I learn as much working in factories and doing construction work as I do in the classroom. Students at Wheaton must sign a pledge not to dance, play cards, smoke, gamble or attend the theater, opera or stage plays. I sign because I do not have the time or money to do these things anyway. Because I saw firsthand what alcohol did to my father, I do not drink or smoke.
Christmas Comes in October. As Head Cheerleader I decide to celebrate Christmas in October. The City of Wheaton decides to let me borrow city Christmas decorations. Overnight the Wheaton College campus is decorated with Santa Claus and his reindeer. Music of the season, from "White Christmas" to "Santa Claus is Coming to Town," as recorded by Bing Crosby and the Andrews sisters, rocks the campus the next day. I am called to the Dean's office to explain myself. The Dean is a bit rattled by my antics but the campus cheers me.
California: Here Comes Joe! In the fall of 1954, I began classes at Fuller Theological Seminary, Pasadena, California. Founded in 1947 by media pioneer Charles E. Fuller and Dr. Harold John Ockenga, Fuller Seminary is an innovative and inclusive graduate school situated in the heart of downtown Pasadena. Dr. Ockenga is featured speaker at my graduation at Wheaton College and afterward he enrolls me for the Fall Semester at Fuller Seminary. I find graduate school a real challenge compared to college.
Settling in California, he begins his career as a broadcaster and occasional employee of Disney, while also campaigning for Ronald Reagan and Barry Goldwater. He also directs and produces fitness guru Jack LaLanne's first media kit and "Jack's Big Swim for Fitness."
Summing up his life lessons, Cosgrove writes: 1) Follow your dreams. 2) Keep focused doing it. 3) Use your imagination and fantasy to create your vision. 4) Be optimistic. 5) Keep learning something new. 6) Be open minded. 7) Team up with talented people of like minds and attitudes. 8) Engage and entertain others through storytelling and music.