James A. Michener authored more than 40 books, mostly massive historical sagas set in a particular geographic location, such as Hawaii, Poland and Texas. He published his first novel, Tales of the South Pacific, at 40 and continued writing until his death at 90 in 1997. His literary career is  noted for constant worldwide traveling and meticulous research, often incorporating history into his fictional narratives.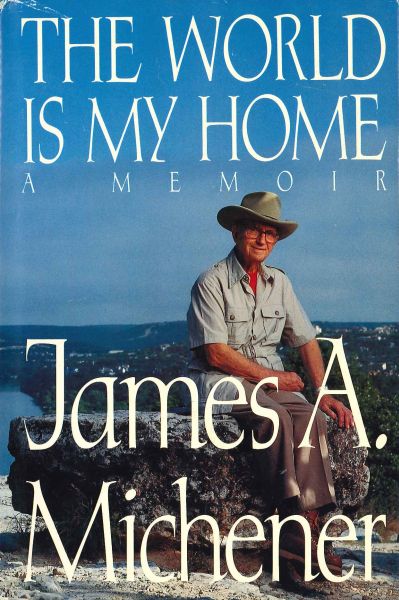 In his memoir, The World is My Home (1992), he reflects on certain novelists he admires and supports, including, somewhat surprisingly, Frederick Buechner.
In the lecture on the literary scene I reviewed the work of some half dozen writers but with special emphasis on two who had captured my imagination and for whom I had great hopes. I sold a lot of books for these two young men. The first had attended Princeton University and was either contemplating or beginning a career in the Presbyterian ministry in which he would later excel. Frederick Buechner had a style of great elegance, so highly polished that he reminded me of Wharton at her best. He liked long sentences dealing with, for example, the sensibilities of urbane parents who sent their sons to places like Princeton, and I used to read aloud with great effect several passages from his novel A Long Day's Dying, in which single sentences ran on for half a page. At the end of each segment I would tell my audience: "I could not in a hundred years write like Mr. Buechner, nor would I want to, but I esteem him as one of the best young writers today and feel sure he will maintain that reputation in the decades ahead."
Michener adds a footnote, "He has. From his industrious pen has continued to flow a unique mix of intelligent novels and masterfully argued religious essays. His reputation is solid."
The papers of Frederick Buechner (SC-05) are archives at Wheaton College (IL) Special Collections.