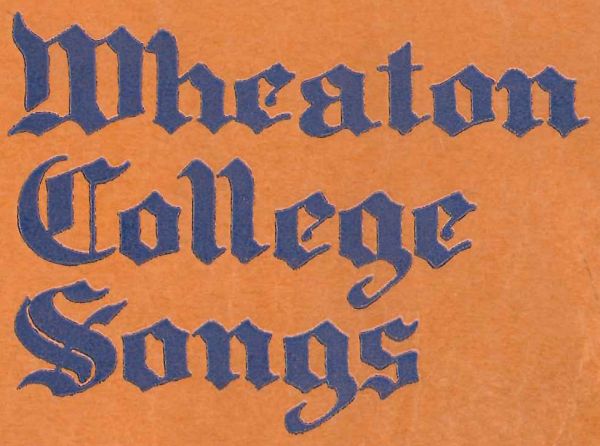 Dr. W. Wyeth Willard, historian, lawyer, WW II veteran and former assistant to Dr. Edman, fourth president of Wheaton College, was asked to write a reminiscense regarding the Alma Mater for the September 8, 1956, Wheaton Alumni magazine. Willard discovered an interesting fact about the beloved college song, usually sung in chapel or at special events.
'O Wheaton, dear old Wheaton, live forever:

Brave sons and daughters true,

We will e'er uphold thy colors

The orange and the blue.'

While gathering material for the College history, Fire on the Prairie, I interviewed a then living secretary of the late President Charles A. Blanchard. He informed me that President Blanchard adapted a song of a now defunct Illinois college, and successfully introduced it at a chapel service. A recent letter from the widow of the above mentioned secretary confirms this testimony, to wit: that around the turn of the century, President Blanchard visited Hedding College, which was then functioning in the small town of Abingdon in Knox County, not far from Galesburg, Illinois. Hedding was having a hard struggle to keep open, and was about to liquidate. President Blanchard had spoken at Hedding, and greatly admired the college song with its "orange and blue." He thought by changing a word here and there he might rescue the living song from the dying college of Hedding. With this object in mind he had his secretary prepare many cards with the present version of Wheaton's Alma Mater typed thereon, 'O Wheaton! dear old Wheaton, live forever!' was thereupon sung in chapel to the delight of all. The adapted version was an immediate success.
However, an astute researcher has unearthed the fact that Hedding College was not struggling or dying when Blanchard visited at the turn of the century. Hedding, a college of the Methodist Episcopal Church, North, conferred its last degree in 1922. After a failed attempt to continue as a junior college, it closed in 1927, and its library endowment became part of Illinois Wesleyan College [now University] in Bloomington, Illinois. The song was copyrighted in 1915, long after Blanchard's visit. Also, the writer of the song's author is credited as "Esterbrook," which might be Herbert R. Esterbrook, professor of natural sciences at Hedding, or his wife, Eudora, Director of the Music Conservatory. Comparing Wheaton's song with Hedding's, the only change Charles Blanchard inserted into the stanzas is the school name. Perhaps the widow of Charles Blanchard's secretary simply misremembered the facts. At any rate, Hedding College and Wheaton College share more than their Christian heritage!
Thanks to Richard Paddon for locating the updated information.