For fifty years the Edgewater Beach Hotel stood as a beacon for luxury, recreation and hospitality in a city renowned for its magnificent lodging. Famous as Chicago's "Metropolitan Hotel with the Country Club Atmosphere," the Edgewater boasted 1000 rooms, several cocktail lounges and five large dining rooms, in addition to nightly ballroom dancing. The grounds included an outdoor swimming pool, cabanas and tennis and shuffleboard courts.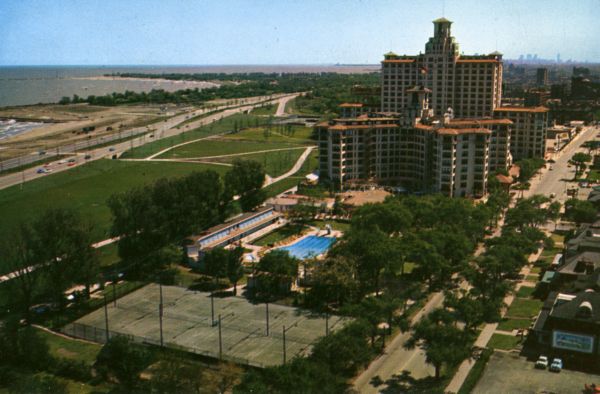 Situated on the North Shore a few hundred feet from Lake Michigan, the massive pink stucco complex served a variety of visitors, vacationers and celebrities, including Frank Sinatra, Bette Davis, Marilyn Monroe, Charlie Chaplin, Lena Horne, Judy Garland, Franklin D. Roosevelt and Tallulah Bankhead. Band leaders Benny Goodman and Tommy Dorsey broadcast from the hotel's radio station. In addition to an array of dignitaries, the Edgewater even hosted the Wheaton College Washington Banquet on February 21, 1958. The cost was $11 per couple. The ceremony was emceed by Dr. Gerald Hawthorne, and the speaker for the evening was Dr. Edward Elsen, pastor to President Dwight D. Eisenhower at National Presbyterian Church in Washington, DC.
Nearly 300 students and faculty attended, with Dr. and Mrs. Bernard Nelson portraying George and Martha Washington. The menu included fruit cocktail, baked sugar-cured ham with raisin sauce, salad, julienne string beans panache and frozen torte with chocolate sauce. Undoubtedly this was a thrilling, noisy night in the big city for the small Christian college from the western suburbs.
Sadly, because of urban renewal and a steady decline in business, the Edgewater Beach Hotel closed its doors in 1967. The buildings were razed in 1970 except for one, now refurbished as residential apartments with landmark status. The structures were so solidly constructed that it took nearly a year to demolish. That happy 1958 Washington Banquet, along with the grand old hotel, belong to fond memory.