Before Camp Honey Rock (later Honey Rock Camp)  became firmly established as a favorite getaway destination, Wheaton College faculty and students seeking a fresh blast of the great outdoors slipped northward to the Jack & Jill Ranch ("for young people, 19-35 years old") in Rothbury, Michigan, about 200 miles from campus. The 650-acre lakeside property provided an ideal venue for horseback riding, swimming, boating, canoeing, archery, riflery, meals and lodging.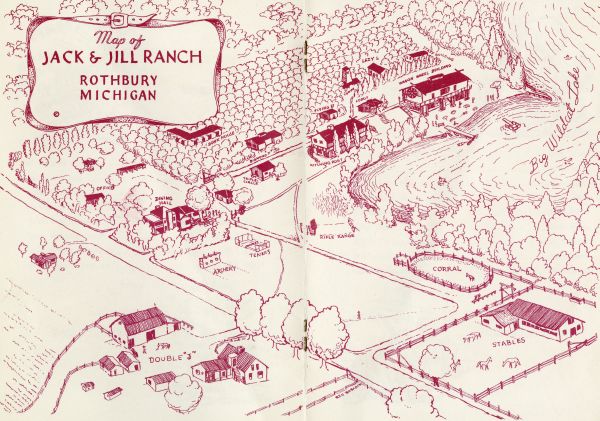 In addition to these activities, the promotional booklet loudly boasts, "Dance music is provided by our own orchestra. There's square dancin', too…we'll teach you right from scratch." Abiding by the Wheaton College rules of conduct, students probably quite reluctantly refrained from "dancin'", especially in the presence of college administration. And when Sunday rolled around, guests were transported to one of "…our little Catholic or Protestant churches in the quaint village of Rothbury."
In  May, 1953, the Senior Sneak, comprising the entire graduating class, fled campus and settled for two days at the Jack & Jill Ranch.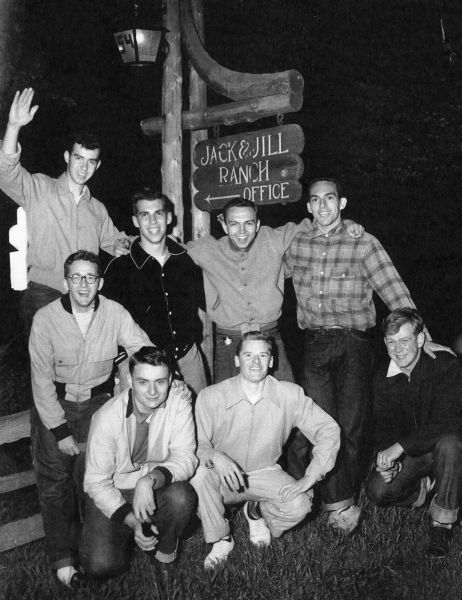 In addition to hearty relaxation, the Senior Sneak organized a worship service with Dr. V. Raymond Edman, President of Wheaton College, conducting the communion table.  The Sneak, probably gathered around a roaring campfire, sang their class song:
We're on the road to victory,

And we can fight as you will see,

As we throng around,

You'll hear the sound

Of cheering loud and free, Rah! Rah!

We are the first in all the fun,

Loyal we stand through gloom and sun;

Pressing forward together

In any kind of weather,

We're the class of '53.
Today the former Jack & Jill Ranch is the 1000-acre Double JJ Resort, including a golf course, water park and conference center. The Double JJ occasionally hosts the Rothbury Festival, featuring music from such rockers Snoop Doggy Dog and John Mayer.