This exotic object might resemble the genie's bottle from the 1960s TV comedy, I Dream of Jeannie, but it is actually a drum. In 1946 diplomat Kenneth Landon traveled frequently to Thailand, attempting to define how that country might integrate into the United Nations. One trip involved attending the cremation of the newly deceased king and the coronation of his brother. During the immediate post-war years many Thai experienced tremendous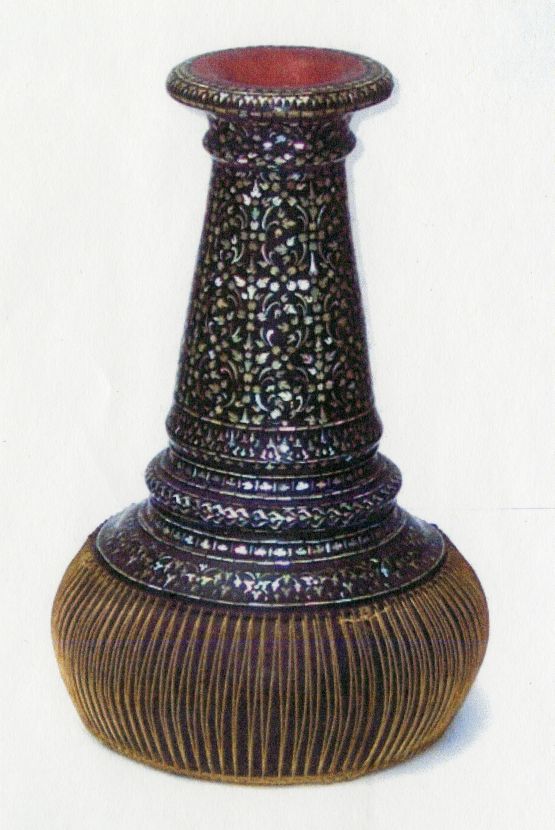 difficulties after surviving the Japanese invasion of their land. Attempting to re-establish their influence, the Thai often exercised hard decisions, such as offering artifacts to visitors they trusted. One family claimed that their lizard skin drum with its abalone mosaics was authentic to the monarchy of either King Mongut or his son, Prince Chulalongkorn, both featured in Margaret Landon's classic novel, Anna and the King of Siam, which was later reworked by Rodgers and Hammerstein into the popular Broadway musical The King and I.
The family offered to sell Kenneth the drum which they assured him was a prized possession.  He was able to ship the drum to Washington, DC in the diplomatic pouch, thus avoiding the complications of a private sale. Kenneth and Margaret's son, Will, received the drum as an inheritance from their estate.
The papers of Kenneth and Margaret Landon are available for research in Special Collections, Buswell Library. Thanks to Will Landon for providing the artifact and information.