It is not uncommon for Wheaton College students to explore various denominations, investigating differences in ecclesiastical polity and practice. But those who journeyed from the comfortable suburbs to the Near North Side of Chicago to attend the Process Church of the Final Judgement were surely surprised to hear from its black-robed ministers that God is composed of three gods, Jehovah, Lucifer and Satan.
The Process, splintered from L. Ron Hubbard's Scientology, was founded in London in the early 1960s by Mary Ann and Robert de Grimston, who soon established chapters in major U.S. and U.K. cities. Charles Manson was allegedly a member of the California chapter, but this assertion was never proven.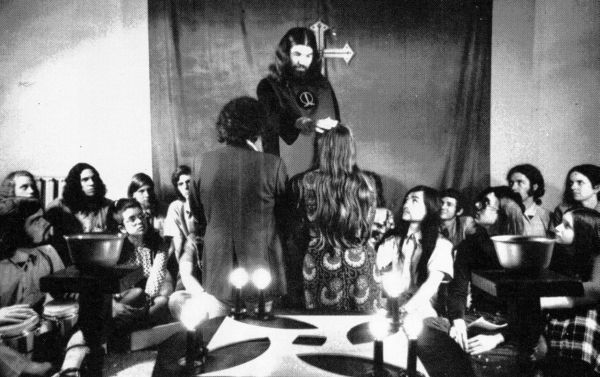 Wheaton College student writer Sinclair Hollberg chronicles his visit in "Record Investigates Process Church in Chicago," published on November 5, 1971. Hollberg visited as an attempt to learn more about one of the cults that were increasing in number at that time, and challenging the church.
During the service Hollberg approached "Mother Mercedes," director of the Open Chapter, who explained the unique Processan doctrine:
"God is within us, his stature and character are inherent in our lives. But there exists also the part of man which is anti-god, it is contrary to God's character and is responsible for the conflicts and tensions of life, the uncertainties, fears and shortcomings that rob man of happiness. The way we can resolve this tension is by uniting ourselves through knowledge of him. But the problem comes because we cannot describe God; if we could describe God then we could define him and to define him would be to limit him to the level of the finite and mortal. We can only describe the parts of God. God is composed of three gods — Jehovah, Lucifer and Satan. Jehovah is the wrathful god of vengeance and retribution, demanding discipline and ruthlessness. Lucifer is the light-bearer who urges us to enjoy life to the fullest, to be kind and loving and live in peace and harmony. Satan, the receiver of transcendent souls and corrupted bodies, represents two opposites. First, to rise above all  human and physical needs to become all soul and spirit; and, secondly, to sink beneath all human values and standards of morality to wallow in depravity."
Hollberg writes, "Salvation, under Process Church perspectives, comes by resolving the conflicts, tensions and frustrations of life through knowledge of that part of God within us that applies to the problem. So one may have Jehovian tendencies of harshness and willfulness, or Luciferian characteristics of agreeableness or Satanic leadings of idealism or depravity. All are in one god, all are unified through Christ. So man may have freedom from the dilemmas of human life by realizing that his behavior is reconcilable with god."
According to Occult Chicago, the Process founded the Chicago chapter in 1970, locating variously in buildings on Wells, Deming and Burling streets, its black-caped Messengers of the Unity distributing literature throughout the neighborhoods. The Process eventually departed Chicago and other cities, breaking into less colorful organizations.