Twenty-five years ago, the Wheaton Alumni magazine began a series of articles in which Wheaton faculty told about their thinking, their research, or their favorite books and people. Professor of English Emeritus Wayne Martindale (who taught at Wheaton from 1981-2011) was featured in the Winter 2011 issue.
Almost like a dare, students (and parents) often ask, "What can you do with an English major?" Because Philip Ryken was an English major, my answer could now be, "Serve as the eighth president of Wheaton College!"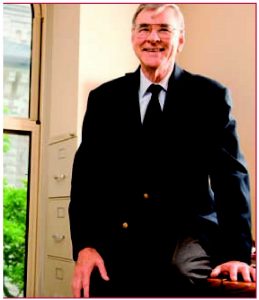 Actually, I do take this question seriously and often relay the vocations of former student teaching assistants. Statistics from the College help round out this list. Then, I get to the answer that has mattered most to me: Literature is about life and helps me understand it.
I didn't come to an English major easily. My own undergraduate sojourn led through four majors: engineering, Bible, psychology, and English.
Looking back, I see that the hook was first set in my high school senior English class. We had to memorize 40 lines of Shakespeare's Macbeth. I grumbled with the rest, but secretly, I loved it. For one thing, here in my previously unbookish life, was beauty. It was a beauty laced with the tragic sense that the future might be ugly or hurtful-or worse, count for nothing. "Tomorrow, and tomorrow, and tomorrow / Creeps in this petty pace from day to day / To the last syllable of recorded time."
Shakespeare's potent vision made me see that actions had consequences and could invite unnecessary pain; that unwashed guilt is living hell; that evil may and must be confronted.
I had found high seriousness. Choices mattered. Despite Macbeth's claim that life was "a tale told by an idiot," all lives had themes. There was a pattern of meaning we readers could see, even when the characters could not. They were all born for something noble, even if they missed it.
From Shakespeare to Dickens and Dostoevsky, there were many books filled with "seeings." I discovered the truth of T.S. Eliot's dictum that we come back from imaginative explorations to "where we start…And know the place for the first time." In the plots of our lives, the sequence of events might seem random and the patterns fraught with apparent trivia- I sleep, I eat, I wash the dishes-over and over. Yet, even amidst the messy clutter of life, our experience is always suggesting some goodness and beauty and meaning beyond "ordinary" living. A literary plot skips the clutter and stages the patterns of life. As Lewis says, successful writers "throw off irrelevancies" and usher us into "whole classes of experience" closed to us before, and thus, "instead of 'commenting on life,' can add to it."
But even plots and poetic images must move through time and space. What we really want is to connect with something that transcends both. That's where the theme comes in: it is the meaning bigger than the sum of the parts. The author, like an interior designer, has come in and permanently rearranged the furniture of our minds.
It's an easy step for the Christian reader to see that the teeming plot of human history is everywhere pregnant with the theme of the necessity of salvation and the reality of reconciliation.
The plots of our lives move through time and space, not randomly, but crafted by a Divine Author into a meaning beyond the sequence of events to fit an eternal theme. All stories are God's story.