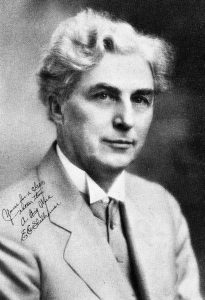 E.E. Shelhamer (1869-1947), prominent Methodist evangelist and author, writes of his early years at Wheaton College in Sixty Years of Thorns and Roses:

After earning enough to go West, I, for the first time, bade good-bye to home and friends. A day and night of travel brought me to the thriving city of Wheaton, Illinois (twenty-five miles west of Chicago), where preparations were begun for that long-cherished education. In order to lessen expenses four of us preacher boys kept "bachelors' hall" the first year. One got breakfast, another dinner, I supper, and a fourth one washed all the dishes. In this way we were able to live at the rate of from thirty-five cents to $1.50 a week and grow fat. My first recitation came at 9:30 a, m., hence it gave me five hours (from 4 a.m. to 9 o'clock) for manual labor; then another hour in the afternoon and all day Saturday. I always kept several small jobs ahead for slack times, and averaged from $2.00 to $6.00 a week at fifteen cents per hour. The studying was done at night, sometimes 11:30 finding me poring over my books.
The other boys could not understand why they could not get work while I had more than I could do, but the secret was in leaving white collars at home and going prepared to take anything I could get. Sometimes I had the promise of only an hour's work, but went at it with a relish and frequently got in a day or more at the same place. Any kind of work was solicited, such as gardening, whipping carpets, mowing lawns, trimming trees, sawing wood, unloading cars, cleaning out cisterns and sometimes other very unpleasant work that made my fingers bleed, but I was determined to make the best of it and not let my father borrow money or sell a cow, which would have been gladly done that he might assist me. I declared that if a boy at the age of eighteen could not educate and care for himself, he was not worth educating.
I well remember the first meeting in which I assisted. At the age of nineteen, I felt that I could no longer be caged up inside the old stone walls of Wheaton College, and accordingly joined a company of three young men at Atwood, Illinois. Souls were getting saved and interest was running high when the devil made his appearance in the form of the Justice of the Peace and other lewd fellows. Their first attempt was to cut down the tabernacle, but they succeeded in getting it only half down when we intercepted them.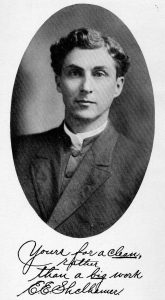 The next night we remained after service, but well for us that we extinguished the lights, for we were shot at and missed but a few feet: we thanked God in that instance at least for "darkness rather than light."
Had I applied myself as some of my colleagues did, I might have been a professor in an institution. What an elevation! In fact, when I left dear old
Wheaton
College it was intimated that I remain and teach. Thank God I escaped!…I remained that year and kept on top of public opinion. The next summer I entered evangelistic work and did not get back to Wheaton again. It was several years before I visited the place, and when I did I naturally inquired what had become of my old colleagues. One had died from the effects of bicycle riding, another was clerking in a little grocery store, another was driving a bakery wagon and still another was preaching for a worldly congregation.