The Evangel 4500, constructed by pilot-mechanic Carl Mortenson of Wycliffe Bible Translators, was the first twin-engine airplane specially designed for missionary use in the most remote, rugged areas of the world. Before Mortenson's innovative engineering on the craft, small planes were limited to single-engine capability, susceptible to power failure during takeoff and landing on short jungle runways.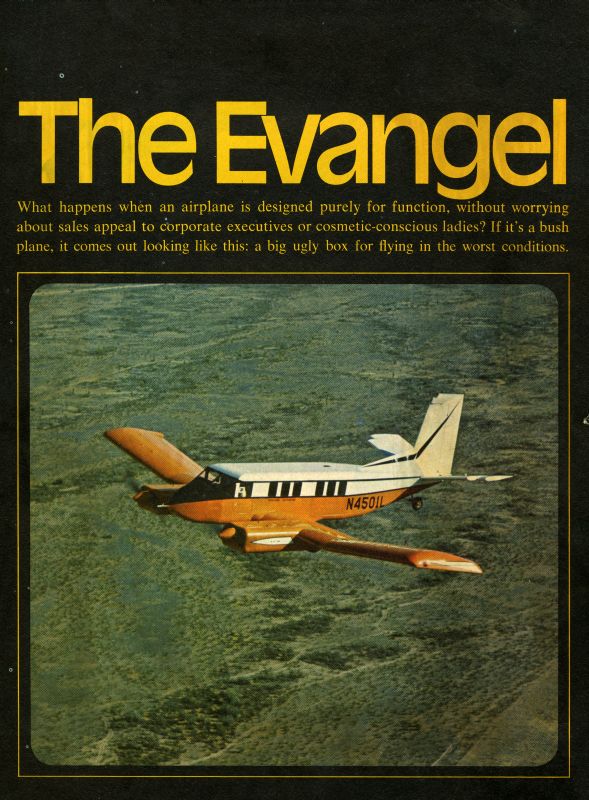 Receiving funding from several Chicago laymen, the Evangel 4500 was ready for its first major mission in 1969. Passengers for thetwo-month voyage to South America were pilot Mortenson, Dr. Paul Wright, chairman of the chemistry department  at Wheaton College, and nine other board members of Project Evangel.
Explaining the need for the plane, Wright remarked, "We don't feel it's right to expose missionaries to the hazards of a single engine plane. The Evangel 4500 can carry two passengers in addition to its 4 x 4 x 9 storage area, or the entire space can be used for passengers. It can take off with a full load in 498 feet. Its maximum altitude is 22,500 feet, but one with engine gone it can still fly at 7100 feet." After the successful flight, Wright often lectured at local churches, telling the story of the unique airplane and its mission.