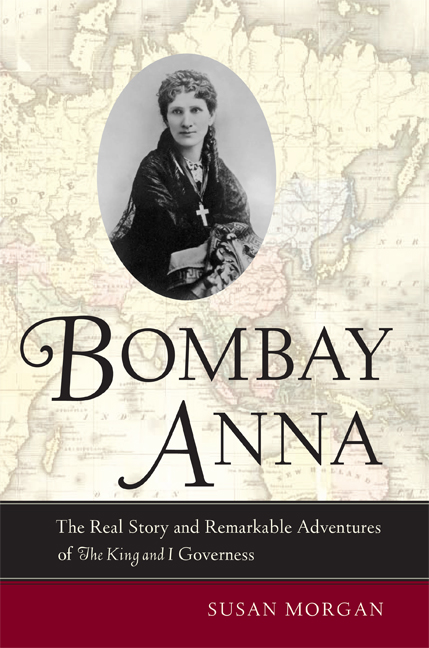 Bombay Anna, written by Susan Morgan, is another retelling of the life of Anna Leonowens. Morgan conducted in-depth research in the Kenneth and Margaret Landon papers seeking to reveal the history of this enigmatic figure. Anna's origins have been less clear in years past and Morgan seeks through this volume to bring clarity to the situation. This was especially difficult because Leonowens was not truthful about her humble beginnings.
Despite her revelations to the contrary, Leonowens was born on November 26, 1831 Anna Harriett Emma Edwards in India to a British soldier and his young wife. Leonowens grew up in Army barracks amidst a diversity of ethnicities and cultures. It was a rather bleak beginning. Leonowens herself married young and continued the military connection until she found herself widowed with two small children. Leaving India Leonowens charted a new course for her life embellishing her pedigree and credentials to become the governess to the children of King Mongkut (Rama IV). It was this Anna that previous biographies have presented–an upper-class British woman who faced tragic loss before becoming a beloved governess in Siam. It is this Anna immortalized in the adaptation of Landon's Anna and the King of Siam (1944) and later as Rodgers and Hammerstein's 1951 musical The King and I.
Landon was hampered by wartime restrictions and limited access to Asian archives. Landon enjoyed great success from her book and its adaptation, which must have left her with feelings of ambivelance since she disliked Rodgers and Hammerstein's final product. Morgan reveals more about Leonowens, in part because more primary sources have become available. Leonowens left Siam (modern-day Thailand) after five years and made her way to America where, Morgan says, another phase of embellishment began. She published The English Governess at the Siamese Court (1870) and The Romance of the Harem (1873) to the interest of many who wanted to learn of the exotic East. Leonowens later left New York for Canada, settling in Montreal and Halifax to spend time with her daughter and grandchildren.