The final debate between John McCain and Barak Obama in the 2008 Presidential race referenced real-life "Joe the Plumber" who struggled on where to place his vote and whether the candidate's proposed economic plans would negatively impact him and his business. Thirty-five years ago there was talk in America about a few other "plumbers." These plumbers didn't carry monkey-wrenches or copper pipes but did release upon this country a flood suspicion, disappointment and cynicism that plagues politics to this day.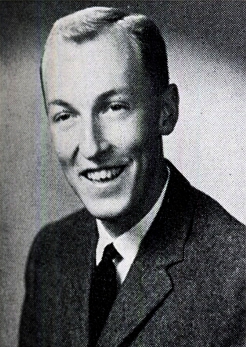 David R. Young, Jr., born in 1936 in Jersey City, New Jersey, received a bachelors of science degree in physics from Wheaton College, Illinois in 1959, where he played soccer, sang in Men's Glee and was a member of the physics Honors Society, Sigma Pi Sigma. He then went on to receive a law degree from Cornell University. Later, he he was employed in the law offices of Millbank, Tweed, Hadley and McCloy, New York. It was from here that he was appointed a special assistant at the National Security Council in the Nixon Administration and an administrative assistant to Henry Kissinger. In 1971, Young was assigned to the Domestic Council, where he worked with one of John D. Ehrlichman's deputies. Young's task was to investigate information leaks within the Nixon administration. Young and his boss, Egil Krogh, founded the White House Special Investigations Unit that eventually was known as "The Plumbers." The moniker came about because plumbers "stop leaks." Legend has it that Young chose this name because his grandfather was a plumber.
Other members of the Plumbers "union" were Howard Hunt and G. Gordon Liddy. The Plumbers, who were obviously not plumbers, and it would appear not good burglars either, are most known for the attempted burglary of a psychatrist's office in 1971 and the attempted 1972 burglary of the Democratic National Committee offices at the Watergate complex. The revelations of the break-ins and subsequent cover-up brought forth a Congressional investigation that resulted in Young's resignation from government service. He was granted limited immunity and spared jail-time.
A few years after this Young moved to Oxford, England and completed a doctorate. He went on to found and lead Oxford Analytica, an international consulting firm that draws upon the expertise of Oxford faculty. He has, since 1975, served as Lecturer in Politics at Queen's College, Oxford. He has also been Senior Associate Member of St. Antony's College, a Dominus Fellow of St. Catherine's College, and Senior Common Room Member of University College. He has served as an Associate Member of the Royal Institute of International Affairs and the International Institute of Strategic Studies since 1980.
The National Archives and the Nixon Library both house archival materials related to Young, "The Plumbers," the Watergate scandal, and related legal actions. The Wes Pippert Papers (SC-56) also contain resources related to the Watergate scandal. Pippert was the principal United Press International (UPI) reporter on Watergate from 1973 to 1975.