John Payson Williston, honored on Wheaton's campus in brick and mortar through the "Women's Building" built in 1895 and renamed Williston Hall in 1933, was a friend of Jonathan Blanchard. An inventor of indelible ink and a business man in Northampton, Massachusetts, Williston was also an abolitionist who used his financial resources and reputation to help those formerly enslaved to find freedom and better lives.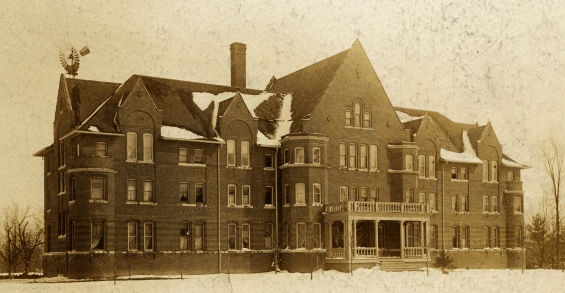 Williston was like so many other evangelical Congregationalists of his time as he was involved in a variety of social and spiritual reform activities. He was not simply religious nor simply reformist, but he saw the holistic impact of the Gospel of Christ in addressing spiritual and physical needs. For Williston the Gospel was not simply "pie in the sky" or "a chicken in every pot" but a mysterious mixture of the here and now and the hereafter. Williston was involved in the Northampton Association of Education and Industry and served as an agent of the American Tract Society in western Massachusetts. He fought slavery and was a member of the Committee for West Indian Missions.
Williston was known to be a part of the Underground Railroad in Northampton and to employ those seeking freedom in his business operations. Additionally, as seen in the life of David Ruggles, Williston underwrote fines and court costs incurred by those on the front lines of the abolitionist cause (p. 41) (Porter, Dorothy B. "David Ruggles, an Apostle of Human Rights." The Journal of Negro History, Vol. 28, No. 1 (Jan., 1943), pp. 23-50)
Williston also had direct personal involvement in his helping others. He took on the guardianship of William Howard Day, the son of abolitionist Eliza Day and her husband, John. Williston helped him gain skills as a printer in Northampton and then sent him to Oberlin College, from which he graduated in 1847 — the only black graduate in a class of fifty. Day later was elected president of the National Board of Commissioners of the Colored People and helped start Livingstone College in Salisbury, North Carolina, a historically black college affiliated with the African Methodist Episcopal Zion Church.
Williston was a friend to both Knox and Wheaton College. After being presented with the needs of the school by George Washington Gale, Williston's first gift to Knox was a set of classical books for use by the students. After Blanchard's election as president of the school his interest in helping fund Knox grew. Williston pulled back his giving as Knox became more secure and landed. Williston was a regular benefactor to Wheaton College. When James Oliver Buswell became president of Wheaton College his also served as the J. P. Williston Professor of Philosophy and Bible.
Williston's importance in western Massachusetts can be seen not far from Northampton as MountHolyoke College named their observatory after Williston. It was built in 1880 to be ready for the rare transit of Venus in 1882. It is the oldest academic building on their campus. Williston's brother, Samuel, was instrumental in the founding of Williston Seminary, now Williston Northampton School. Samuel was also a friend and donor to Blanchard's causes.
John Payson Williston was a business man, reformer, abolitionist, benefactor and compassionate Christian. He took personal and professional risks to help those in need. He made an indelible impression on numerous lives and institutions.