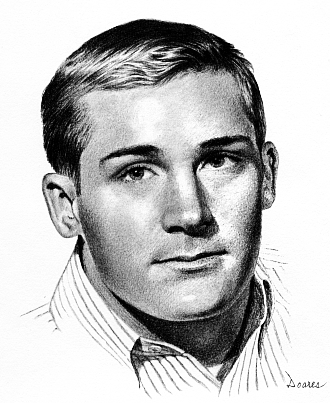 Erwin Paul (Zeke) Rudoph II was a relaxed, vibrant young man of twenty, a student of English literature who also adored sports, particularly baseball. He possessed many friends and much promise. In 1967, after experiencing persistent vision impairment, fatigue and unsteady balance, he consulted his doctor. Enduring one exam after another, Zeke at last received the shocking prognosis. He had developed multiple sclerosis, an incurable disease. In this case, terminal.
A fiercely competitive athlete, he now faced opposition far more threatening than any he had ever encountered on the field. But Zeke held a steady course as he tackled his relentless stalker, first with a measure of frustration and apprehension, then with thanksgiving and confidence, and finally with tranquility, resting faithfully in the triumphant Savior "who hath abolished death" (II Tim 1:10). As Zeke's stamina steadily diminished, his spiritual strength increased, allowing him to offer comfort to his comforters. With each day moving him closer to eternity, he inspired his family and Wheaton College classmates to deepen their communion with Christ, to assess values and align priorities for the uncertain path ahead.
Surrounded by love and abiding peace, he died quietly at age 21 in Central DuPage Hospital. His pastor, Allyn Sloat of Wheaton Bible Church, performed the funeral. Chaplain Evan Welsh, whose brief visits and wise counsels to the dying boy were like "gentle zephyrs from heaven," read scripture and commented on the brevity of other sanctified lives: Borden of Yale at 24; Robert Murray M'Cheyne at 29; and Christ himself at 33. The story of Zeke's brief life and ultimate victory over death is eloquently chronicled by his father, Dr. Erwin Rudolph, in Good-by, My Son (1971). Rudolph, former Professor of English and Chairman of the Division of Languages and Literature at Wheaton College, offers hard-won observations on the nature of affliction. "We do not pretend to understand why God's time-table differs so markedly from our own. But it was ours which was out of adjustment, not His…I strongly affirm that belief in Divine Providence affords the Christian an undergirding he can ill afford to lose. I also discover that God may personally allow suffering to come upon us for reasons which please Him. When He does, we ought not to demur, for God knows what is best for us." Rudolph approached his son's illness as a unique opportunity to serve rather than a hindrance.
John Piper, a student of Erwin Rudolph's, was struck by the quote, "Zeke called death sweet names." Underlining that phrase, Piper determined to live life seriously so that when death came upon him he could echo those words, knowing that he had lived well unto Christ.
Rudolph concludes, "To the Christian there is always tomorrow. This hope is based on Christ's resurrection…Zeke has gone ahead to those green fields of glad service, while we remain to work here a little longer."