One of the richest components of the Special Collections are the 95 hours of oral history interviews with Kenneth and Margaret Landon, conducted over 13 years by their son, Kip (Kenneth). Abstracted, The Landon Chronicles, provide rich detail and insight into the lives of these two amazing individuals. It tells of the fun times and the hard.
One such story was Margaret Mortensen Landon's time as a teacher in Bear Lake, Michigan.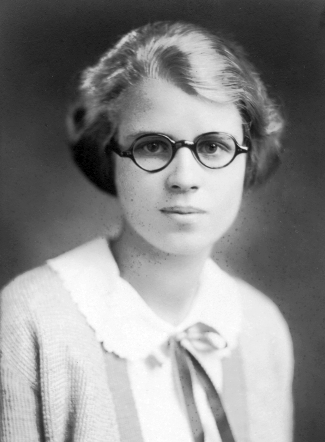 Adelle, Margaret's mother, drove her up to Bear Lake, Michigan, which was good bit farther north than Stoney Lake. It was hard for Margaret to go. She stayed with a couple, Mr. and Mrs. William Richmond, whom she found very kind people–he was a rural deliveryman. Margaret's salary as a teacher was $150 a month, which was good. She had a bedroom, and had her meals with the Richmonds. Though her accommodations were nice the house had no inside bathroom–the Richmonds were in the process of building one. Her first letter home from Bear Lake talked of her rearranging her room, but all fall she wrote about them working on that bathroom. The only toilet was outside attached to the old barn, requiring Margaret had to have a slop pail in her room to use as a toilet at nights.The outhouse was fifty feet from the house, and on a cold, snowy night in winter, it was no pleasure!
No toilet paper was provided at the Richmond's, instead, there was just an old Sears catalog. Everybody was expected to get along with pages they ripped out of it. Margaret relates in the Chronicles, "I wasn't used to that, you see." So, Margaret bought paper napkins, she tells us, to use instead of toilet paper. How she longed for the completion of that new bathroom! The inside part was completed that fall, but they didn't have a septic tank and so couldn't connect it.
In addition to this indignity, the only way she had of taking a bath was a sponge bath. Oh how this refined young lady from Evanston must have longed for home.
Margaret's teaching schedule included English 3; Latin 1; Assembly; Caesar; English 4 and American literature; English 1; English 2. A heavy load. In addition to this, she was expected to coach the debating team and coach the basketball team.
Just a small glimpse into the early career of this noted author with the Landon Chronicles containing so much more.