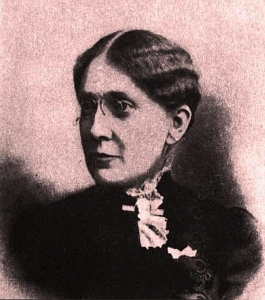 This summer marks the 135th anniversary of the founding of the Woman's Christian Temperance Union. Beginning in the fall of 1873 many women across Ohio and New York gathered in churches and marched at their local saloons in support of temperance. After listening to lectures by Dr. Diocletian "Dio" Lewis, groups in Fredonia, NY and Hillsboro and Washington Court House, Ohio protested against alcohol and decided that a national organization was necessary. In August 1874 at an interdenominational meeting of the National Sunday School Assembly held on the Chautauqua Grounds at Lake Chautauqua, NY, a national convention was planned for later that fall. On November 18-20, 1874, women from eighteen states gathered in the Second Presbyterian Church in Cleveland, Ohio to organize the first national convention of the National Woman's Christian Temperance Union (WCTU). During this three day meeting, methods, plans of work, a pledge and constitution were formulated and the first set of officers was elected.
In 1879 Frances Willard became president of the WCTU and used her political prowess and moral persuasion in championing total abstinence. As president of the Woman's Christian Temperance Union from 1879 to 1898, she garnered support for temperance as well as women's suffrage, economic and religious rights, prison reforms, abstinence, education and labor reforms, and international peace. Willard's personal motto was "do everything." The WCTU adopted this as a policy which came to mean that all reform was interconnected and that social problems could not be separated. The use of alcohol and other drugs was a symptom of the larger problems in society such that by 1896, over two dozen of the WCTU's departments were dealing with non-temperance issues. The WCTU would become the oldest continuing non-sectarian women's organization in the world and continues to this day.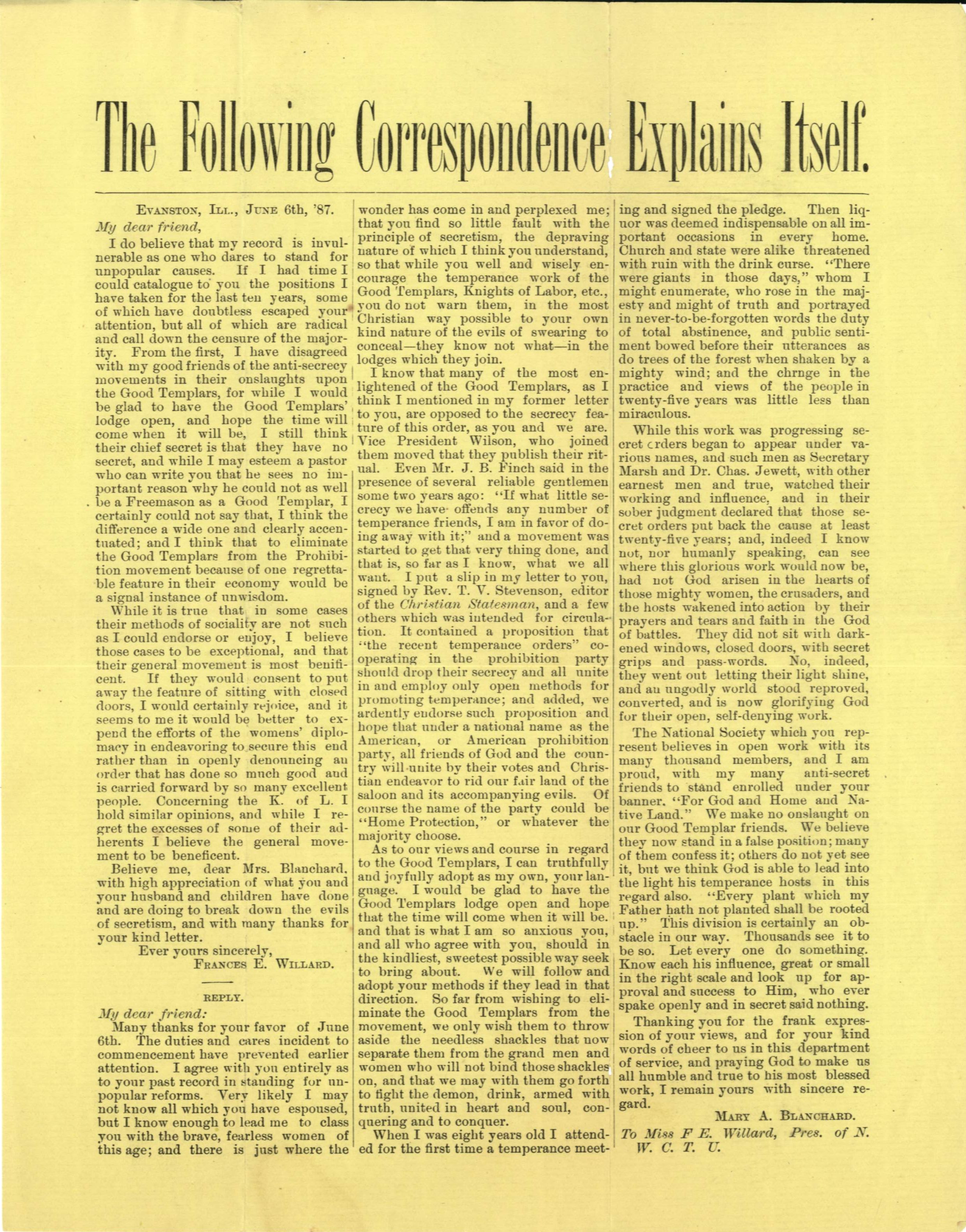 According to Howard A. Snyder's "Populist Saints" (Eerdmans 2006), Wheaton College president, Jonathan Blanchard met with Francis Willard and other WCTU leaders in an attempt at joining forces, but an alliance was not forged due to WCTU ties with the Knights of Labor and Good Templars. A Wheaton chapter of the Woman's Christian Temperance Union was eventually formed and it's records lie in the Special Collections and are composed of meeting minutes from 1906-1956. The College Archives also holds correspondence between Frances Willard and Jonathan's wife, Mary Bent Blanchard, some of which was published in the Christian Cynosure newspaper.