One autumn evening in 1977 a boy was invited to an AWANA meeting at a Baptist church. After games, cookies and punch, it was explained to him that accepting the gift of grace offered by Jesus is as effortless as receiving a glass of cold milk from a smiling grandpa. The next day, exulting in a joy he had not known before and has seldom felt since, he bounded up and down the aisles of his fourth grade classroom, telling his chums about Jesus. Unlike most days, his teacher, Miss Lovell, a commanding woman with red hair and horn-rimmed glasses, did not scold him for talking too loud and too much, but from her desk remained unobtrusively observant. Odder yet, when the 3:00 pm bell rang, she leaned close and whispered, "I'd like to tell them about Jesus, too. But I can't." Why not? the little evangelist wondered, blissfully ignorant of administrative legality as he grabbed his Batman lunchbox and rushed for the exit. You just open your mouth and TALK. In the years following, long after his own faith had miserably disintegrated during high school and college, the boy learned that she did not hesitate about speaking of Jesus. In fact, as an earnest, smart, freckle-faced young lady, she had in 1941 enrolled at Wheaton College to learn more about Him. On her application she wrote:
Jesus Christ is my Savior and Lord. He has saved me (Acts 16:31) and cleansed me of all my sins. He lives to make intercession for me and give me strength to do the things He has for me to do (Phil 4:13). My life purpose is all in Him (Heb. 13:8).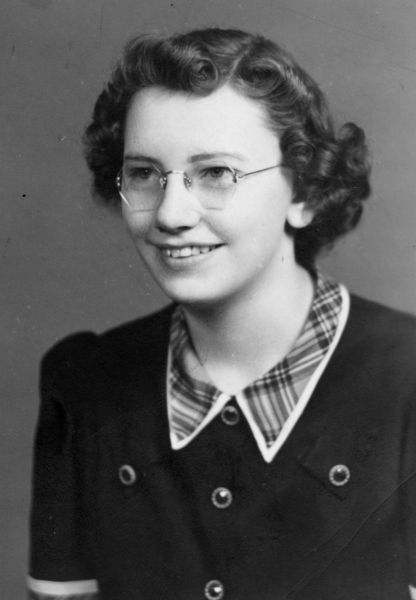 Rooming at Wayside Inn on the edge of campus, she studied Christian Education and participated in Foreign Missions Fellowship, which sought to inculcate a "…passion that the student world might be stirred with the challenge of foreign missions." Her life purpose secure, she pursued additional studies and acquired her certification before entering the mission field in 1950, serving with Baptist Mid-Missions in Brazil. But failing health brought her home after only two years. Undaunted, Miss Lovell recovered and moved to Japan, teaching at a school for military children before circumstances again returned her to the States, and soon she gained employment at a public grade school in Rochelle, Illinois. Researching further, the boy learned that she was a constant member of First Baptist Church, where she taught 6th grade girls and sat on the missions committee and continuously wrote letters to missionaries, sometimes visiting them on faraway shores at great personal expense. He learned that she relished hosting furloughing missionaries in her home and that she willed her humble property to the church. Her prayer card for Brazil states: "There is a responsibility for those who remain in the homeland, and that is the ministry of prayer in behalf of those whom He calls and sends forth with the precious seed of life." As she had requested, the Lord indeed granted Miss Kathryn Lovell strength for what He needed her to do. When the boy's faith finally warmed again and he heard of her death in 2001, he regretted that he'd never had a chance to thank her for being the first adult to seriously affirm his decision on that splendid autumn night, and for standing as an impassable testimony when the winds of doubt and worldliness flattened lesser soldiers. No longer a boy, he is pleased, too, that the sunlit affirmation she now receives far outshines any threadbare praise he or any other grateful heart could ever offer.
[Biographical information is provided by Mrs. Wanda Ussery of Rochelle, Illinois, and Baptist Mid-Missions, located in Cleveland, Ohio.]