Certain writers are famous for one book, such as Harper Lee and To Kill a Mockingbird or Margaret Mitchell and Gone with the Wind. Others generate saleable wordage as easily as sneezing. For instance, Erle Stanley Gardner, creator of unbeatable lawyer Perry Mason, positioned multiple typewriters around his office and simply switched from one manuscript to another. His colleague, English crime novelist John Creasey, wrote 562 novels; and Barbara Cartland published an astonishing 723 Regency romances, aside from several non-fiction titles.
In the world of juvenile fiction, Roy J. Snell wrote somewhat less but lived as large, trekking as hazardously as Ernest Hemingway or Jack London. "Did you ever eat walrus meat?" asked advertisements for Snell's books. "Did you ever drive a dog team, travel in a boat made of skins, or sleep in a bag?" Gosh, no! replied generations of wide-eyed boys and girls starved for vicarious thrills. But Snell did all this and more, tackling perilous frontiers – deserts, seas and tropics – with gusto and humor. Born in 1880 at Laddonia, Missouri, he moved with his family to northern Illinois where he worked his way through Wheaton Academy and Wheaton College. Graduating in 1906, he enrolled for one year at Harvard Divinity School, then matriculated to Chicago Theological seminary, leaving with his degree in 1916. He received his MA from the University of Chicago in 1917. Moving south he served first as pastor of a small church in rural Illinois, then as principal of the Black Mountain Academy in Evarts, Kentucky, living among the feuding families of the hills. As a missionary he relocated to the Behring Straits, Alaska, where he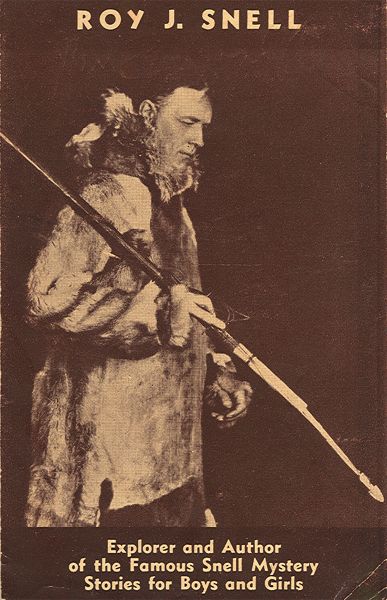 rode herd, directing 350 Eskimos and 1500 Wales reindeer. At one point he sailed the Arctic Ocean in a boat made of skins. Desiring to write the Great American Novel, Snell settled for adventure and mystery tales, drawing from his vast storehouse of experience. His work began rolling from the presses at breakneck speed as he often composed 2000 words per hour without an outline. He sold his first manuscript, Little White Fox and His Arctic Friends, in 1916. Many of his novels were first serialized in Boy's Life, American Boy and The Youth's Companion. During WW I he spent six months in France with the YMCA, serving as a mechanic. Here he met missionary Lucille Ziegler, whom he married in 1920. During their honeymoon he wrote a book. After the war Snell returned to Wheaton, residing with his family at 705 N. Wheaton Ave. For 20 years during the holidays he worked incognito at Marshall Field's and Carson's in Chicago, hand-selling his own titles over-the-counter to unsuspecting customers. Further bolstering book and magazine sales, he lectured annually in Detroit schools about Eskimo ways, struggling into a deerskin parka while demonstrating how to throw harpoons, or how to catch a tame monkey gone wild. "A pan of glue is substituted for water," he explained. "Mr. Monk washes his face with glue. His eyes are stuck fast together and he is easily caught."
By the end of his life Snell had published 82 novels, with over two million sold. "I also wrote something like a thousand Sunday School stories for the David C. Cook Pub. Co. of Elgin," he matter-of-factly informs the Wheaton College Alumni Association in a 1959 update. Later that year he suffered chest pains and was taken to DuPage Memorial Hospital in Elmhurst. Four days later his earthly odyssey ended. "I've had my day," Snell once told a reporter, "and got out of it exactly what I wanted." He was survived by his wife and three sons.