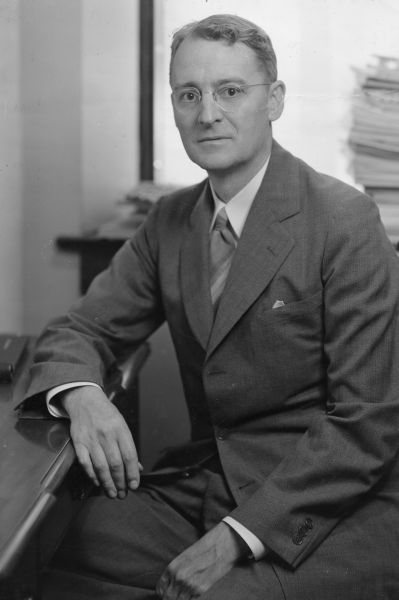 The visitor to the second floor of Buswell Memorial Library will spy a sign near the drinking fountain designating an alcove in a short hallway as "Mortimer B. Lane." Cornered in the quiet byway are the offices of retired professors Gerald Hawthorne and Beatrice Batson. However, before Lane was a place he was a person, hired in 1937 to teach political science and economics. An admirable instructor, he enjoyed relationships beyond the classroom. Dr. Joseph MacKnight ('43) fondly remembers in an oral interview when Lane and his wife, Mary, opened their spacious dining room every Sunday evening, serving cold meats and refreshments to Wheaton College students strolling home from church. MacKnight's classmate, Billy Graham, also recalls:
As for my homesickness, the Lane family soon came to my rescue. Dr. Mortimer B. Lane taught courses in government and economics at the college. Before that, when he was in government service, he and his wife and their seven children lived in Switzerland. Quite well-off, they entertained students in their large, comfortable Victorian home near the campus. They welcomed me as one of their own. Early on Sunday mornings, as Plymouth Brethren, they hosted a small local assembly in their house. I began to attend that quiet communion service with students from other churches.
As a Brethren adherent accustomed to restrained worship, Lane sent a friendly letter in 1939 to then-president Dr. J. Oliver Buswell, requesting that certain matters be observed during chapel services. Specifically, he objected to 1) prize giving; 2) concerts, unless dedicated to sacred music; 3) frivolous announcements; and 4) clapping. As well, he disliked the presence of "aesthetic decorations" such as candles, widely used by literary societies, since these trappings are used by the Roman Catholic Church to "appeal to the senses instead of to the mind and heart." Buswell offers a sensible response:
My own background leads me to enjoy the worship atmosphere of a Gospel tabernacle type of meeting in which enthusiastic music, occasional handclapping, and a good many other informal things have a part in worship. I also enjoy the dignified Protestant service of the old orthodox churches in which a considerable amount of art is employed. I think the aesthetic appeal of music and art cannot correctly be set in antithesis to an appeal to the soul, but may correctly be characterized as an appeal to the soul through the musical and artistic sense the Lord has given us.
Celebrating a fruitful 14-year season of mentoring and hospitality, Mortimer B. Lane resigned in 1951 and relocated with his family to Long Beach, Mississippi. Here they opened "Southern States Bible and Christian Supplies," selling and distributing scripture, Sunday School material, hymnbooks and recordings. Responding to Lane's departure, Dr. Edman, fourth president of Wheaton College, expressed "deep regret" but also "…sincere appreciation for all that you and your lovely family have meant to us…You have been a pillar of strength to me personally and to all the College, a source of joy and encouragement to many young hearts, especially to those who have come from distant parts of the world." As a parting gift, Edman and the faculty presented him with a letter case to use for his business. "I don't need it to remember my associates at Wheaton," Lane gratefully replies, "but this will make me remember all the more."
Lane's Plymouth Brethren assembly, for which he served as an elder, evolved into what is now called Bethany Chapel, situated on the corner of President St. and College Ave. in Wheaton, Illinois. His son, James, later served on the Wheaton College board of trustees.