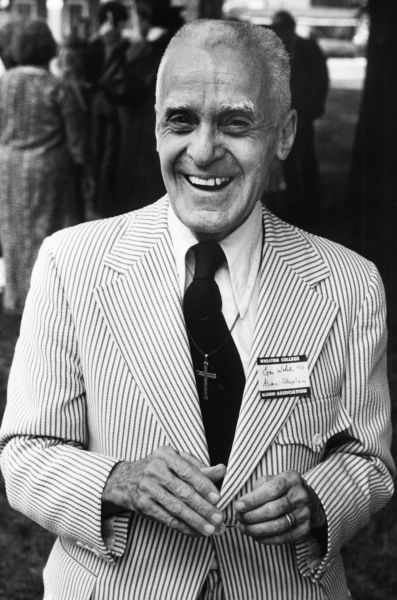 Dr. Evan Welsh, Wheaton's first chaplain, serving from 1955-70, and later as Alumni Chaplain, sat for this excerpted 1980 interview, conducted by Mark Dawson, for the Record. The 75-year-old preacher briefly recounts the Wheaton College presidents he has known.
"He was one of the most striking-looking men that ever lived," Welsh recalled of Charles Blanchard. "He was about six-two, well built, had snowy white hair, a snowy mustache, and piercing black eyes. But he was very gentle, very loving, very firm, very courageous. He treated the college like his family. He had deep convictions on salvation, holy living and the Law of God." Welsh said that late in his career, Blanchard insisted that Wheaton maintain its doctrinal integrity in the face of rising modernism in the evangelical world. Even so, in the 1920s evangelicalism began to shift away from the ideals of the Blanchards. "Churches became prophetic centers," Welsh said. "I remember in chapel in 1925, an outstanding speaker telling us that it looked like 1926 was surely the day of the Lord's coming. They were so preoccupied with eschatology that they neglected the social aspect of the gospel that had been big in (Jonathan) Blanchard's day."
With the sudden death of Charles Blanchard in 1925, the college invited J. Oliver Buswell to take the presidency. Describing Buswell as "an excellent scholar, a strong speaker and a great theologian," he added that Buswell was committed to being separated from the old-line denominations. Welsh praised Buswell for getting Wheaton accredited in spite of hostility from secular educators because of the college's evangelical stance. He also complimented Buswell for his doctrinal convictions, his emphasis on good scholarship, and for doubling the student population. According to Welsh, Buswell introduced the pledge to assure the Christians of his day that Wheaton would not "go down the drain" once the Blanchards were gone. "We had no pledge in my day," he said. "Although President Blanchard believed strongly in the separated life." Welsh spoke highly of Buswell, but said his differences with the trustees of his support of an independent missions board and of a controversial football coach led him to resign.
"Dr. Edman was just the man to take the presidency at that time," Welsh continued. "In the midst of the fundamentalist-modernist controversy, here comes Ray Edman, a very pacifistic soul, a fine, devout Christian. He was a marvelous P.R. man. In any group he just won their hearts. I think how many times he'd say, 'Evan, your caffeine count is low, let's go out for a cup of coffee.' He was a very genial, warm person, a keen mind, a good administrative hand at the helm, and a fervent spirit."
Likewise, Welsh described Dr. Armerding as a spiritual giant. "I have seen him grow on the job," he said. "He was less of a mixer with students than Dr. Edman when he took the presidency, but that has changed over the years." Citing an example, Welsh described a chapel service in the 1960s. "He gave the chapel talk, and then he said, 'Now before I close this chapel, there's another part to it that's going to come as a complete surprise even to the other party involved. Will Jerry Lower please come forward?' This surprised hippie-type person – I can hardly tell this without tears – came forward. Then Dr. Armerding just threw his arms around him. Well, the chapel went wild." Welsh paused, drying his eyes with his hands. "Do you think I've communicated my feeling about Wheaton, guy?" Welsh said his love for Wheaton centers around its biblical basis, its strong scholarship, and its social passion. "I sometimes say to my wife, we've been privileged to know some of the best people in the world."