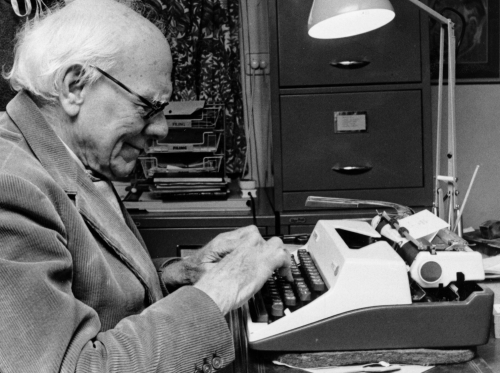 As 2010 finished out it marked the 25th anniversary of the acquisition of Malcolm Muggeridge's Papers and the 15th anniversary of their dedication . Canon David Winter gave the dedicatory address entitled "Seeing Through The Eye: Muggeridge, the Prophet of the Media Age." A commemorative booklet including the entire dedication program on November 18, 1995 was made available. The noteworthy event was also featured in a full-page article in the Wheaton's student newspaper, The Record .
Malcolm Muggeridge, born in 1903, has become one of the notable figures of the twentieth century. He is well-known as an author, journalist, media personality, and in his later years, a leading spokesman for Christianity. Malcolm Muggeridge experienced a life of tension and seeking. Beginning with his socialist upbringing, his father was involved in politics and served as a member of Parliament, his search for satisfaction and justice continued until it culminated in his finally embracing Christianity.
Malcolm was first and foremost a writer and thinker, who contributed greatly to the literature and thought of the twentieth century. As Canon David Winter stated,
The true value of having Malcolm's papers at Wheaton College comes through being able to preserve "the voice of a craftsman of the English language–and a Christian voice which speaks with all the more splendor because it was born from a seed that was full of doubt, cynicism and self-promotion.
The Papers of Malcolm Muggeridge are available to researchers at the Wheaton College Archives & Special Collections.