In 1953 William Akin, generous rare book donor to Wheaton College, recounted in a Union League Club publication that while working for the Chicago Daily News he found himself in San Antonio, Texas and had a chance meeting with, what he called, using as he described it, the radio-parlance of the day, "a character."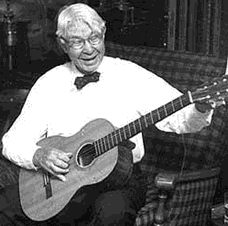 As he was making his way to his room in the Plaza Hotel he passed a room from which emanated singing accompanied by some guitar music. To Akin the music sound quite familiar so he knocked on the door. Being invited in Akin found Carl Sandburg sitting on the bed, in a crouching position with his shoes off. There Sandburg, who Akin always found to be unusual and unorthodox, was playing the guitar and singing to himself. Akin enjoyed the company and music for over an hour.
Sandburg was an avid guitar player and had the chance to meet Andres Segovia in 1938. Sanburg had followed Segovia since hearing his recordings twenty years earlier. The meeting with the father of modern classical guitar helped to reinvigorate Sandburg and his writing.
One can now purchase recordings, once long-unavailable, of Sandburg singing folk songs like "Cigarettes Will Spoil Yer Life" and "We'll Roll Back The Prices."