Twenty years ago, the Wheaton Alumni magazine began a series of articles in which Wheaton faculty told about their thinking, their research, or their favorite books and people. Former Professor of Christian Educational Ministries and Evangelism Lyle Dorsett (who taught at Wheaton from 1983-2005) was featured in the Winter 1993 issue.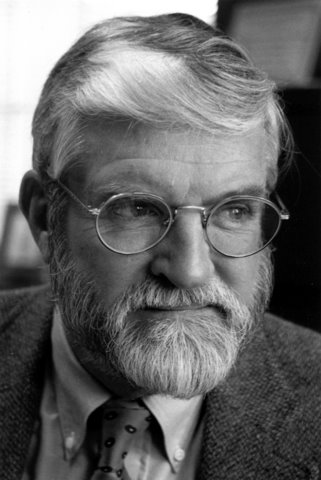 When I was a teenager, the father of my best friend used to sing a song that included these lines:
……………Well I might have gone fishin',
……………but I got to thinkin' it over,
……………and the road to the river,
……………is a mighty long way.
……………It must be the season,
……………no rhyme or no reason,
……………just takin' it easy,
……………it's my lazy day.

Today my mind is filled with gratitude. Why? It could be the season. As I write, leaves of rich yellow, red, and golden hues are falling all over campus. The football Crusaders played again yesterday and won rather handily. Turkey, pumpkin, and cornstalk decorations adorn the offices and dormitories. 'Tis the season to be thankful.
But my gratitude has a reason that goes much deeper and way beyond the season. It is tied up in being a part of the Wheaton College community.
Mary and I and our son, Michael, came to Wheaton from Colorado in the summer of 1983. Looking back over ten years here stirs my heart with gratitude. I am thankful for numerous things some far too personal to set forth here. On the other hand, there are several causes for gratitude that are on my mind, and I feel constrained to share them with the extended Wheaton College family.
First of all, I am grateful for colleagues on the faculty and staff–true brothers and sisters in Christ who encourage me, pray for and with me, bear my burdens, and hold me accountable. I am also thankful for those seldom-noticed heroes and heroines who keep the buildings so clean and the grounds well groomed.
Besides colleagues on the faculty and staff, students fill my heart with joy. I realize it is fashionable nowadays to bemoan the fall of America in particular the morals of our young people. Quite frankly, Mary and I–thanks to our Wheaton College experience–feel hopeful rather than concerned. In my office I have a large map of the world on the wall. This map is covered with red pins that pierce scores of cities and countries on every continent but Antarctica. Each pin represents a place where at least one, but often many, former students work in vocational missions and ministry.
I am grateful to God for raising up SO many students out of Wheaton College to work in the great harvest He has prepared. I am also grateful to these former students for responding to God's call on their lives.
In addition to these who work directly with the harvest, there is another group of alumni that warm my spirit. These are the women and men who have not been called to serve in vocational ministry or missions, yet are giving sacrificially to support their friends who have been called to go. Mary and I feel a deep sense of gratitude to those people, who for one reason or another, have stayed at home but feel a marked sense of responsibility to assist their former classmates who are doing yeoman service on the front lines.
Recently, Mary and I have become deeply involved in a new mission agency, Christ for Children International, designed to minister to children in Latin America. CFCI has yet to celebrate its second birthday, but already there are eleven missionaries serving in two cities in Mexico. Of those eleven, ten are Wheaton College graduates. Because of our daily involvement with this agency, we have seen first-hand how Wheaton students and alumni are giving sacrificially to make this work possible. They also comprise a prayer network that has undergirded the work and enabled it to go forward.
Finally, I am grateful for the chapel services we hold three days each week. It is in chapel where we meet together and learn who needs prayer and a burden shared. Together we join to sing praises to our Lord Jesus Christ, for it was in his name that Wheaton College was built, and it is in his name that we go forth to advance his kingdom.
Yes, I am grateful. And much more than the season makes me this way.
———-
Lyle W. Dorsett received his Ph.D. from the University of Missouri and for several years taught in state and private universities. He came to Wheaton College in 1983 to become Director of the Marion E. Wade Center. He was involved with the Billy Graham Center's Institute of Evangelism and in 1991 was appointed as Professor of Educational Ministries and Evangelism in the Christian Education & Educational Ministries department. He has also authored numerous books and articles including biographies of Billy Sunday, E.M. Bounds; Joy Davidman (wife of C.S. Lewis), D.L. Moody, and A.W. Tozer. Since 2005 he has been the Billy Graham Professor of Evangelism at Beeson Divinity School and Pastor at Christ the King Anglican Church in Birmingham, Alabama.