Ruth James Cording (who graduated with a literature degree from Wheaton College in 1933) was born and raised in Auburn, New York, of Welsh and Irish descent. Her father was a Baptist pastor and her grandfather, Evan Thomas James, had emigrated in 1866 from Wales. In fact, Auburn greatly resembled Wales, from its rocky terrain and rolling hills. Ruth knew she had cousins yet living in that distant land of poets and singers and was fully aware of the Welsh contribution to Christian hymnody and revivalism, but her interest burst aflame when she discovered in 1958 her grandfather's diary, written in 1887 when he returned to Wales to visit his aged mother. Her curiosity piqued, she decided to investigate that "…damp, demanding and obsessively interesting country," as historian Jan Morris writes. First, however, Ruth read as many books as she could locate. Her research provided the core of her Welsh book collection.
Soon thereafter in 1962 she met a cousin, Neli Davies, visiting the U.S. One year later, Ruth and her husband, Ed, full of purpose, journeyed at last to the brooding, storm-swept land of Wales and happily engaged "…the friendliest people on earth," as she and Ed determined. They spoke in Capel Ficar, the chapel where her grandfather had attended as a child, and located the graves of her great grandparents, buried in the church cemetery. They also visited cousin Neli at her cottage, stacked from floor to ceiling with Welsh books – many of which she eventually presented to Ruth.
When Ed retired from the Directorship of Wheaton Conservatory in 1970, he and Ruth rented a flat at New Quay on the shores of the Cardigan Bay on the Irish Sea. Settled for a comfortable stay, they traveled to the Preseli Islands, marveling at the "blue stone" transported to Stone Henge.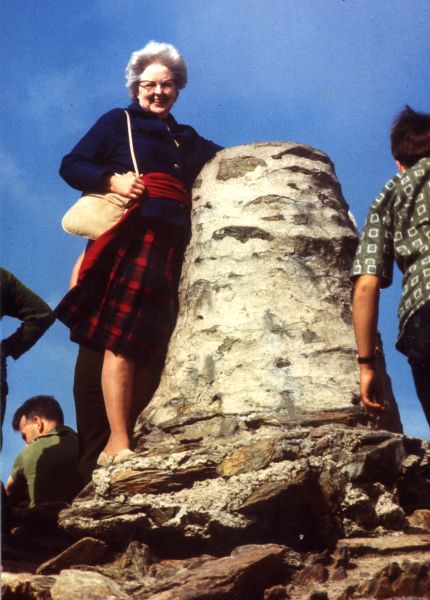 They visited St. David's Cathedral and saw the "Bleeding Yew Tree" at Nevern and the schoolchildren's graves at Aberfan, site of the tragic mine disaster. Continuing apace, they saw David Lloyd George's monument in Cricceth and ascended the summit of Snowdon with its glorious view of the countryside, placing a stone on top, according to Welsh custom, "…though getting down was a bit rough," Ruth remarked. They attended the International Music and Poetry Festival at Llangollen and searched out the home of William Williams, the songwriter who wrote "Guide Me, O Thou Great Jevovah." Among other high points they watched the weaving of a Welsh wool tapestry at Altcaven Mill and saw potters spinning clay at their wheels. They followed the Arthurian Grail legend from English Glastonbury to Ozzleworth, from whence seven monks, carrying the sacred olivewood "cup of healing" had fled during the dissolution of the abbeys, traversing the mountains to Strata Florida Abbey and then to the mansion at Nanteos. They even caught a glimpse of the legendary cup when it was displayed at the National Library of Wales.
By motorcar they journeyed the National Library at Aberystwyth and also to the National Centre for Children's Literature nearby. She and Ed were guided to the village of Laugharne where Dylan Thomas is buried, and climbed up to "the Boathouse" where many of his poems were written. During this visit Ruth called the Welsh writer, Dr. D.J. Williams, lovingly called "The Granddaddy of the Welsh." He encouraged her to write about Wales for American children. She was also introduced to Waldo Williams, the renowned Welsh poet, and visited the double-naved chapel of R.S. Thomas, the famed British poet who lived in sight of picturesque Bardsey Island. All the while they took slides, capturing innumerable picturesque moments.
In addition to traveling, Ruth published several short stories, articles and books, including The Turquoise Bracelet (1959), Glenn and Bill at Prospect Point (1953) and C.S. Lewis: A Celebration of His Early Life (2000). She was instrumental in assisting Dr. Clyde Kilby with establishing the Marion E. Wade Center. On St. David's Day, 1991, Ruth Cording donated her Welsh books to Wheaton College, stating, "It is our hope that this collection, which will be added to year after year, may be a source of great satisfaction and usefulness here at Wheaton College even as it has been to me." Ruth died on May 5, 2008, just shy of her 97th birthday.
The Ruth J. Cording Welsh Language and Literature Collection (SC-43) is available to researchers on the third floor of the Billy Graham Center.