Campus buildings and rooms are often named in honor of a generous donor, but this does not necessarily mean that the details of the honoree's life survive the commemoration. In time the name simply becomes associated with the structure rather than the individual. Hugo Wurdack, whose name graces a small auditorium in the eastern colonnade of Edman Chapel, surely deserves his story known.
Born the youngest of seven on a farm in Missouri in 1871, Wurdack accepted Christ as his Savior at the age of 18 and dedicated his life to serving the Lord, attending Life Congregational Church. He and his brother, William, pioneered in the electrical industry while in their teens. Together they built the first electric light plant in St. Louis in 1888. Hugo built the second plant and installed electric lights in several of the downtown buildings.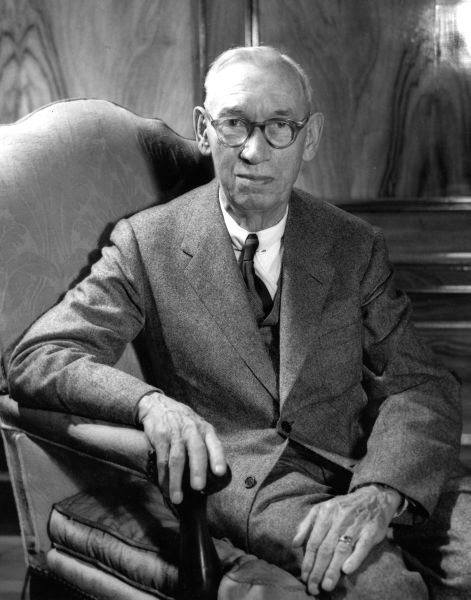 Eventually Wurdack entered the utility business and established a chain of companies, electrifying towns in 12 states and 40 municipalities. Later he sold these and devoted himself to manufacturing air conditioning equipment. In addition to business, he was a devout Christian and earnest personal worker. Wurdack was elected to the Wheaton College board of trustees on June 14, 1927. He would serve the college under three presidents: Charles Blanchard, J. Oliver Buswell and V. Raymond Edman. In June 1951 Wurdack was granted the honorary Doctor of Law degree from Wheaton College. One of Wurdack's convictions was to honor the Lord with a tithe of all his earnings and time. In his will he gave full credit to this principle as the chief reason for his success. Shortly after the construction of Edman Chapel, the Williamsburg Prayer Chapel at the east end of the building was renamed "The Wurdack Chapel," recognizing the venerable entrepreneur's stellar stewarship.
He and his wife, Evelyn, had no children. Wurdack died during the night of September 11th, 1963. He was 92, one of the oldest trustees in the college's history. After his death, Billy Graham assumed his seat on the board of trustees. Dr. Edman, delivering the eulogy, chose a text which described Wurdack's contribution to his generation in both the realms of business and spirit: "He was a burning and a shining light…" (John 5:35).
Wurdack Chapel was funded by a grant from the S.S. Kresge Foundation.