Over thirty years ago the following article was featured in the Wheaton College Alumni Magazine in May 1981 and is transcribed below.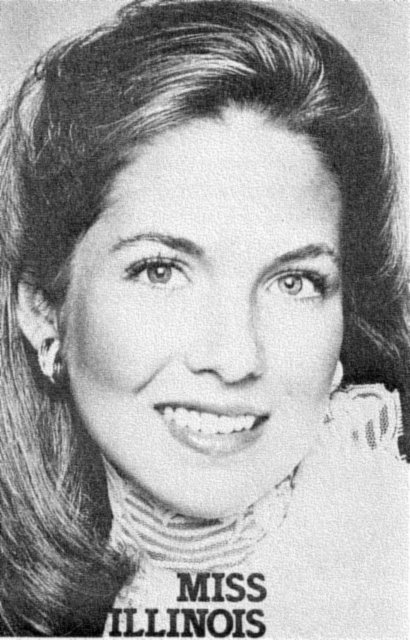 Blythe Sawyer — Miss Illinois 1981
by Ed Meyer '71
Little did Blythe Sawyer know, when she graduated from Wheaton's Conservatory of Music a year ago, of all the excitement which lay ahead. She was an attractive and talented vocalist, intending to pursue a master's degree in voice from Indiana University. Her goal was to sing at the Met in New York City in fifteen years.
Those goals are still there, and there's a possibility she'll meet them. But Blythe has postponed them after winning the Miss Illinois contest and a talent scholarship at the Miss America contest.
Blythe's parents, Myron '51 and lean Wright Sawyer '48, joined with a former Miss USA, Karen Morrison (wife of Gordon Comstock '74) in encouraging her to enter the competition. Morrison operates a modeling school in Wheaton and offered her professional assistance and experience. Blythe's rooting section also included grandparents, ten aunts and uncles, six cousins, a brother and a sister who are all Wheaton graduates or present Wheaton students.
Blythe says, "My first motivation was that this could be a platform for my singing. Of course, the potential scholarship money is as a factor, too. Now, I see this as an opportunity to share Christ with people."
She first won the Miss Chicago pageant, and then went on to win the Miss Illinois pageant. Along the way she earned $2,000 in scholarship money. At the Miss America pageant she won an additional $3,000 in the talent competition.
Prior to the Miss America Contest Blythe participated in a 19-day USO tour to Veterans Hospitals in the western part of the United States. "That was somc of the best training I could have had in preparing for the final contest. Also, we spent an hour every night with patients. While I could not always share Christ in so many words, it was a good opportunity to share His love," Most of the last year has been spent modeling, making appearances at trade shows and store openings, and emceeing local pageants. Of these experiences she says, "I've tried to, as carefully and Christlike as I can, share Christ with people. It has been an opportunity for me to show the love of Christ with a giving, loving attitude. I want people to go away thinking 'I felt comfortable with her. She seemed to care about me.' "
A disappointing effect of the singing Blythe did for the pageants and all the speaking she has done, is that she has developed some problems with her voice and is unable to sing now. This has been difficult for Blythe to handle but she says, "While I've always had my heart set on a performing career in classical music, I'm realizing that there are very few openings even for extremely talented People. Now, I'm sorting through various opportunities and trying to determine what other abilities and interests God has given me. I still desire to serve Him, no matter what I'll be doing."