In a recent posting on TheAtlantic.com, Suzanne Fischer, notes that many "discoveries" that emerge from archives and libraries are not true discoveries but the result of good cataloging and description. She was referencing Charles Leale's medical report written the morning after the assassination of Abraham Lincoln. Fischer rhetorically asked her reader if the document had been uncovered in an old attic or beneath a set of stairs. No, she replied. The document was "right where it was supposed to be," (emphasis by Fischer). The work of archivists and librarians is to describe things so that they may be found and this is exactly what is being done with a significant backlog with Wheaton's Missions and Evangelism Collection.
Over the years the former Billy Graham Center Library accumulated volumes of interest that lay beyond the staffing resources to fully catalog. Simple bits of descriptive information was added to the library catalog awaiting the day when the records could be expanded and rounded out to include all the pertinent information necessary to help individuals find and use specific volumes. During the summer of 2012 efforts have been underway to sort through the thousands upon thousands of volumes to locate the items of most interest to missions and evangelism for fuller cataloging. Materials not added may be diverted to other suitable collections, such as the Hymnal Collection, the library's general collection, or elsewhere.
Upon reviewing volumes that had been separated and taking a second pass to be sure that no missions or evangelism titles were missed, two copies of College Students at Northfield were found sitting side-by-side.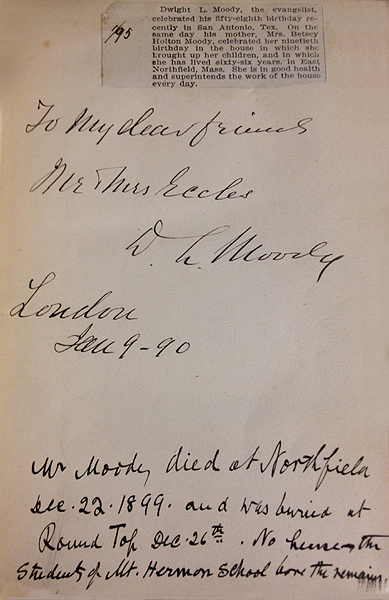 Northfield was the birthplace of D. L. Moody and was the location of one of his three schools that he helped found: Northfield Seminary for Young Ladies (1879), Mount Hermon School for Boys (1881), and Moody Bible Institute (1886). In 1880 Moody began his Northfield Conferences that drew the likes of George Pentecost, A. J. Gordon, Jonathan Blanchard, and Hudson Taylor, among others. Several years later Moody realized the value of drawing college students into service for missions. With the help of Mr. L. D. Wishard, then college secretary of the International Committee of the Young Men's Christian Associations of the United States and Canada, the Student Volunteer movement got its start.
Now, back to the two volumes. The first and the second were the same. They had been set aside and were not to be included, yet upon this secondary review, the content had direct relevance to missions and evangelism. While flipping open the second volume the fly-leaf jumped forth. On this page was the signature of Dwight Lyman Moody with an inscription to "my dear friends, Mr. & Mrs. Eccles." At the bottom of the page was a note written severals years later that noted Moody's death and his being carried to his grave by the students of the Mount Hermon school.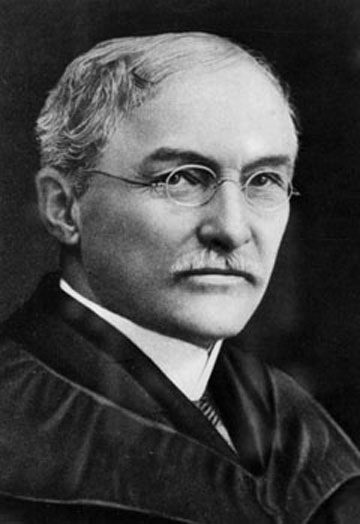 Eccles supported the work of Moody's ministry. Born in 1843 near Sarnia, Dr. Friend Richard Eccles attended the University of Toronto's School of Medicine and received an M.B. in 1867 and an M.D. in 1868. Opening a practice in Arkona, Dr. Eccles practiced for nine years before completing studies at St. Thomas Hospital in 1876. He was appointed Professor of Physiology where he instructed students for six years before becoming a Professor of Gynecology. Eccles also served as Dean. As well as being an educator, Eccles was a scholar as he researched, delivered papers, and published his findings. Furthering the work of medical education, he delivered the opening lecture of the Medical Department of the Western University in London, Ontario in 1894. After his retirement he was acknowledged for his work with an honorary LL.D. degree in 1916. Dr. Eccles died in 1924. The entry for Eccles in the Cyclopedia of Canadian Biography notes that he was heavily involved in religious work and served as the president of the YMCA in London, Ontario for three years (1880-1883).
To be sure, this volume will no longer be overlooked, nor will the Christian testimony of Dr. and Mrs. Eccles.