Billy Graham, '43 graduate of Wheaton College, emerges from an honorable heritage of "crusade" evangelists like D.L. Moody, Wilbur Chapman and Billy Sunday, preachers renowned for conducting massive citywide campaigns.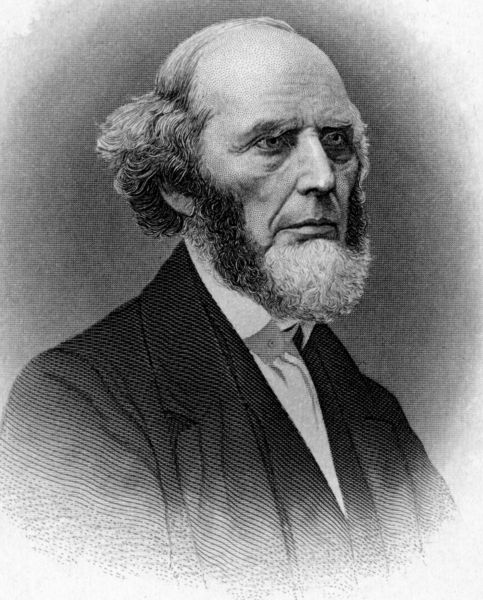 Laying the groundwork for all such ministries, however, was Charles Grandison Finney (1792-1875), the first great evangelist of the Second Great Awakening, who established such familiar patterns as offering the public invitation (now known as the "alter call") to sinners to accept Christ's free gift of grace, encouraging them to walk forward and deal with God at an "anxious bench;" and praying extemporaneously from the pulpit, rather than reading from a book. Finney's innovations, now common practice, were groundbreaking for American Protestantism. As such his influence deeply colored the spirit of Wheaton College, though he never visited its campus.
Initially practicing law in New York, Finney dramatically converted to Christ through the counsels of Presbyterian theologian George Washington Gale. Studying for the ministry under Gale, Finney acquired his preaching license and served as pastor for several years in New York City before commencing his extraordinarily successful itinerant preaching. Eventually he served from 1851-65 as professor and president of Oberlin College in Ohio. Finney, an ex-Mason, was fiercely anti-Lodge and unshakably abolitionist. These qualities were most appealing to a young pastor named Jonathan Blanchard, visiting the Oberlin campus to deliver a speech, in addition to investigating the work of the Holy Spirit among the students and staff. Blanchard would serve as president of Knox College in Galesburg, Illinois, a work community named after the man who converted Finney, George W. Gale. In the late 1860s, after Blanchard had assumed the presidency of Wheaton College, Finney fully supported his efforts in founding The Christian Cynosure, the printing agency of the National Christian Association, dedicated to thwarting the Masonic Lodge.
Jonathan's son, Charles Blanchard, second president of Wheaton College, remembers Finney from a visit to Oberlin:
President Finney of Oberlin was another of the great souls whom God permitted me to meet in my early public life. Lecturing in his city he invited me to dinner and gave me the privilege of an hour or so of delightful conversation. Among other things he said: "You frequently meet with opposition, do you not, in your work against the lodges?" I replied that this was true. He said: "That is always true when you are doing good. It used to be true of us here in Oberlin. When I came to this place there was not a church between Boston and Buffalo which wanted to see me. Associations, conferences and presbyteries refused to ordain our young men because they had studied here. Now," he said, "We are really too popular. The world does not hate us anymore. Our great danger is our popularity." He continued, "You need not be worried while you find that the world hates you, but if ever the world should come to love you and speak well of you and make your path easy, then," he said, "you must beware for you are in mortal danger."
Blanchard paints a vivid word picture of the magisterial preacher:
He was the most remarkable man to look at. Perhaps all great men are…His eyes were deep set, his brows beetling over them. His eyebrows were gray and large, intensifying the effect of the brows themselves. His eyes glowed under excitement and inspiration. He seemed like an old prophet. It was easy to imagine that he resembled Ezekiel. I think in the temper of his mind he did resemble him. Not so much a mourning prophet as Jeremiah, not so much a prophet of the court as Isaiah, rather like Ezekiel who saw visions of eternal things and who saw all temporal things in things in the light of the eternal….President Finney was another of those men who did not confer with flesh and blood. He took his orders from Heaven and I do not think it would have made the slightest difference to him if the rich and wise and powerful of the world could have been gathered in one company to denounce and threaten him. God was so real that the voices of men sounded dim and uncertain in his ears.
Finney's abiding influence on Wheaton College is also evidenced in the ministry of its fourth president, V. Raymond Edman, who was deeply concerned about revival.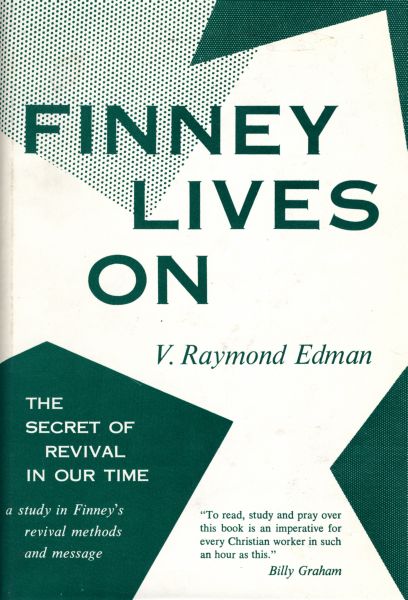 In 1951 Edman published Finney Lives On: The Secret of Revival in Our Time, of which Billy Graham remarks, "To read, study and pray over this book is an imperative for every Christian worker in such an hour as this." Edman summarizes his subject in the epilogue:
Thus was Charles Grandison Finney, the lad who grew up in the backwoods of America without any knowledge of the gospel, the young lawyer who met the Lord Jesus in true penitence and prayer, the man who was devoted to the Scriptures and the Savior, the revivalist whose tireless labors shook America and Britain in decades that were dark with human greed and godlessness, the pastor and college president whose ministry led multitudes to the Master and sent them to the ends of the earth in His glad service, the servent of Christ who still lives in Christian hearts the world over as he thunders to us in his Memoirs, Lectures on Revivals of Religion, and Lectures to Professing Christians. Finney lives on in hearts that need revival. Pray for revival, and learn from him the open secrets of revival.