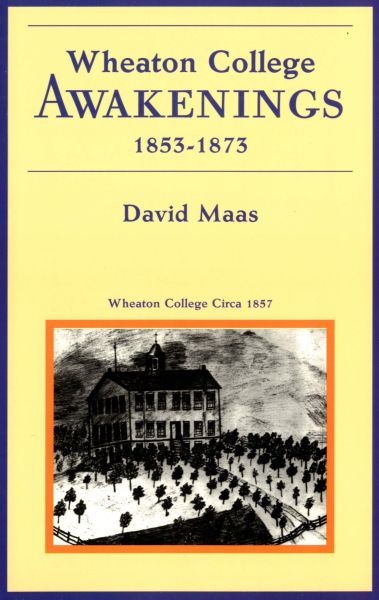 Before publishing Marching to the Drumbeat of Abolitionism: Wheaton College in the Civil War (2010), Dr. David Maas, retired professor of history, released Wheaton College Awakenings: 1853-1873 (1996), comprising 266 entries excerpted from correspondence, diaries, newspapers and other printed matter, chronicling early campus life.
A few examples:
#18. Discipline of studying, 1857. And if the discipline of study ever accomplishes anything it must be self-imposed. The student who needs a police force to exact obedience to academic law deserves no place in a respectable literary institution.
#37. Student attacks novel as trashy literature, 1857. The country is flooded with books and papers which have a tendency to excite and intoxicate the mind; consequently the mind becomes poisoned and the desire for useful information is destroyed and all the noble powers of the intellect die of starvation or from the want of wholesome intellectual food…[too many read] worthless nonsensical trash which has a tendency to destroy the virtue and morality of the consumer. [Great men of the past] Webster, Clay, Washington and Sumner…[did not] rise to the highest pinnacle of fame by spending their time novel reading…Young man, beware, beware of that young lady who spends most of her time in reading novels, talking nonsense and laughing at others…
#97. Professor critical of the architectural style of central section of Blanchard Hall, 1868. [Professor John Calvin Webster in address dedicating the cornerstone of the west wing of Blanchard Hall refers to the original center section as] the semblance of an old-fashioned New England cotton mill.
#106. Complaint of high costs of Wheaton, 1857. Although the world seems to frown on you now and by every means possible to take the last dollar you possess, particularly so if you are a student at Wheaton College.
#252. Student concerned about Civil War, 1861. It [imagination] sees the dark cloud which now overhangs our country roll away; and our nation purified by fire and blood – rising up with a halo of glory around.